Works in Development – Feature Launch 2019
MIDPOINT Feature Launch Tutors
Danijel Hocevar
Born 1965 in Ljubljana, Slovenia (former Yugoslavia), a film producer with extensive working experience in international co-productions and narrow-budget films and a managing director of Vertigo, a Ljubljana (Slovenia)-based film production company. Danijel has produced or co-produced more than 40 feature films, as well as more than 15 documentaries, including award-winning films such as When the Day Had No Name (2017, Berlinale Panorama Special) by Teona Mitevska, Nightlife (2016, Karlovy Vary IFF's Best Director Award), Slovenian Girl (2009, Toronto IFF) and Spare Parts (2003, Berlinale Competition), all three of which were directed by Damjan Kozole, An Episode in the Life of an Iron Picker (2013, two Berlinale Silver Bears and short-listed for a Foreign-language Oscar) by Danis Tanović, Circles (2013, Sundance FF World Cinema Competition's Jury Prize) by Srdan Golubović, Alexandrians (2011, feature doc, Trieste FF's Best Documentary) and Beneath her Window (2003, Karlovy Vary IFF Official Selection), both directed by Metod Pevec, The World is Big and Salvation Lurks around the Corner (2008, short-listed for Foreign-language Oscar, Moscow IFF Gala) by Stephan Komandarev and many more. Danijel has been selected among Variety's Ten Producers to Watch in 2001. He has been a voting member of the European Film Academy and since 2005 actively involved in several European audiovisual training initiatives, such as MIDPOINT Feature Launch, EAVE (Group Leader between 2009–13), Nipkow Program and Maia Workshops. He is also an advisor and member of the selection committee of the When East Meets West co-production market in Trieste.
---
Christian Routh
Christian is a script analyst and film consultant based in Catalonia, Spain. From there he works for various filmmakers, state institutions, and training programmes. For the past 13 years he has been co-head of studies of the MEDIA supported training programme, SCRIPTEAST, with events in Poland, Berlin, and Cannes. Forty-two feature films have been produced during his time there. He has worked with various European film agencies, with workshops in Spain, the UK, Czech Republic, Slovenia, Macedonia, Georgia, Romania, and the Baltic states. For 15 years he was a tutor at the Binger Film Lab in Amsterdam, and in 2012 he initiated the first HEZAYAH screenwriting workshops in Qatar. From 2008 until 2012 he was head of studies of the FOUR CORNERS European film school initiative. Before that he held the same post at the PILOTS TV workshops in Sitges, Spain. In 2006, Christian was the co-author of a book called 'Script Development'. Before moving to Spain in 2000 from his native London, he was head of selection at MEDIA's European Script Fund and EMDA, in London, from 1989 until 1998. While there, he helped support hundreds of European films and companies. Prior to that, he had been a film buyer and development executive with British production and distribution companies.
---
Anne Gensior
Anne Gensior works as an international script consultant for feature films and documentaries with several European production companies and as a script reader for film funds. After graduating in dramaturgy from the HMT Leipzig and working as a script reader, curator and theatre dramaturge and for festivals and radio programmes abroad, Anne joined the script development agency Script House in Berlin in 2009 and participated as a story editor in the Script&Pitch Programme of TorinoFilmLab. Since 2012 she has been working closely with the Turkish producers workshop YAPIMLAB on the development of various film projects and has also given lectures on script development. She became an international consultant and member of the selection committee of the Antalya Film Forum in 2016.
---
Ivo Trajkov
Ivo Trajkov is a director, producer and screenwriter. He was born in Skopje, Macedonia and graduated from FAMU in Prague. Upon graduation, he decided to stay in Prague and start his career in the Czech Republic. His filmography as a director/screenwriter includes 5 feature-length films for which he received numerous awards. He works in a wide range of genres: comedy, docudrama, experimental films, and historic drama. As a producer, Ivo Trajkov was involved in more than 60 episodes of the critically acclaimed documentary series Unexplained Deaths. In 2015 he directed the co-production drama Honey Night (MK-CZ-SL), a Macedonian nominee for the best foreign-language film for the Academy Awards. Ivo Trajkov is the head of the editing department of FAMU.
---
Gabriele Brunnenmeyer
After some years as a journalist and film critic, Gabriele Brunnemeyer worked in various fields within the film industry. She ran the MEDIA Antenna Berlin-Brandenburg, acting as an artistic adviser for the MEDIA training initiative Moonstone International, as well as artistic director for Connecting Cottbus till the end of 2010. From 2013 to December 2014 she was the head of studies of the MEDIA-supported training program Maia Workshops. From 2013 to 2018 she joined the conference coordination of the IDM Film Conference Incontri in Italy. Since 2005 Gabriele has worked for the German foundation Kuratorium Junger Deutscher Film as a project and script consultant. Furthermore, she gives script consultation for independent feature films, documentaries and shorts as well as for First Films First script development training. She acts as a pitching trainer and host for numerous events such as Baltic Pitching Forum, MIDPOINT Feature Launch, Sam Spiegel Lab, Berlinale Talents and runs the Pack & Pitch program within Sarajevo Talents.
---
A Sensitive Man
Citlivý člověk
---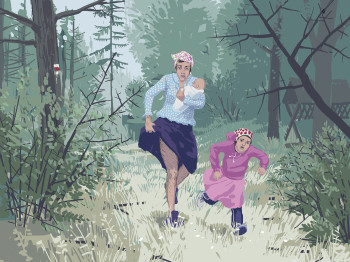 Countries:
Czech Republic
Scriptwriter:
Tomáš Klein, Kateřina Traburová
Estimated budget:
705,00 EUR
This film is director's debut.
Film synopsis
Elias (12) and his family are coming to the Czech Republic to settle down after years of a nomadic lifestyle. Instead of an idyllic return, they find their mother's elderly father dying bitterly in his dirty flat. Mother collapses from exhaustion and father takes her to the hospital. The old man dies overnight and, when father returns, the police are already taking Elias and his brother away. The wild odyssey of the father, Elias, and his little brother, all three in female disguise, begins here. On their way, trying to get back to the hospital, they meet locals and become involved accidently in their dark life stories. Elias doesn't speak and copes with his overall cynicism through his imagination, but he slowly realizes that his father has lost his ideals long ago. In an effort to wake the sensitive man in his father, Elias defies him and by doing so gives him a new chance to win his son back and complete the journey to reunite the family.
Company profile
MasterFilm is an independent production company based in Prague and founded in 2011. We focus on auteur audiovisual art with high ambitions and the potential of international overlap and European co-production. We are interested in projects that search for new approaches towards audiovisual art – our goal is to provide these projects with production conditions that do not lead to any creative compromises. Today, we rank among the top young-generation Czech production companies. We focus on both young and emerging talents and experienced authors with an innovative approach towards film whose talent we believe in and trust. This allows us to make all possible efforts to fulfil the ambitions of a complex film. We've helped make films such as Wolf From Royal Vineyard Street (J. Němec), Totally Talking and Bear with Us (T. Pavlíček), Reconstruction (O. Novák, J. Havlíček) or Fruits of Clouds (K. Karhánková).
Author's statement
Jáchym Topol's book A Sensitive Man hit me in a period when my own father died and my first daughter was born. I felt hope and anxiety at the same time. I see the black-humoured adventure that Elias experiences with his dad, disguised as a woman, as an opportunity to cleanse oneself with laughter and shake off fear. Their wild journey is a metaphor of a boy becoming a man. He must retain his child sensitivity to mature in a positive manner. This sensitivity makes him stand up against the cynical world and also to his own father, who has already lost his sensitivity. To me, their conflict symbolizes hope, as it ultimately makes them both stronger, enabling them to weather through this dark world. I see a strong cinematic potential in the inner world of the mute Elias, which is seen through his associative imagination and the constant movement of the camera and characters, which finally proves to be the path to battling despair.
Producer's statement
A Sensitive Man is a feature debut by one of the most promising Czech filmmakers, Tomáš Klein, whose short film Retriever was selected for Cannes – Cinéfondation. His new film is based on a famous novel written by Jáchym Topol and promises a unique artistic work that could be quite extraordinary in the Czech context and beyond. We are now in an advanced stage of development. We were selected for the MIDPOINT Feature Launch workshop and already have FAMU and a Slovak co-producer on board. We plan to apply for production support from the Czech Cinematography Fund in October 2019. We've also secured an MG from the major Czech distribution company CinemArt and plan to start shooting in summer 2020. As we believe in the strong international potential of our project, we plan to create the film in co-production with Slovakia and possibly Italy or France. We are looking for strong partners and sales agents.
Contact / Presenters
Tomáš Klein | Director, Writer
Email: [email protected]
Mobile: +420 605 128 099

Kateřina Traburová | Writer
Email: [email protected]
Mobile: +420 731 712 686

Tomáš Michálek | Producer
Email: [email protected]
Mobile: +420 602 630 466

Grey Skies
Natsrisperi Tsa
---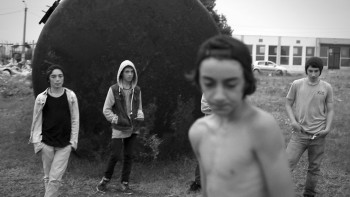 Directed by:
Ekaterine Chelidze, Konstantine Kalandadze
Scriptwriter:
Ekaterine Chelidze, Konstantine Kalandadze
Producer:
Elene Margvelashvili
Genre:
coming of age drama
Estimated budget:
350,000 EUR
Release date:
January 2021
Film synopsis
Georgia, 1994. Goga (15) spends his days in the streets with his classmate Avala. They are 'tough guys' of the post-war generation, imitating criminals and seeking power by bullying others. A new person appears in Goga's life – Gia (23), a former mobster and Goga's relative who returns to the city. Gia now lives a quiet life among artists. He sees Goga's passion for street life and shows him a different reality. Goga enjoys spending time with Gia and loses interest in Avala, leading to a fight between them. Meanwhile, Gia's former gang appears on the scene, making claims about some unfinished business involving guns. Gia refuses to cooperate and is beaten in the street. The next day Gia takes Goga to a water canal where he gets rid of a bag full of guns. Gia explains to Goga that now he has burned all the bridges connecting him to his past. On their way back home, Gia is killed in the entrance of his home.
Company profile
The film production company Parachute Films was founded in 2014 by producer Elene Margvelashvili and director/producer Konstantine Kalandadze in Tbilisi, Georgia. Our playground is made up of author-driven feature and documentary films, which deal with the cultural identity of the Caucasus. We seek to develop, produce and co-produce films and provide high-quality audiovisual services in Georgia. Having obtained national support for three feature films, Parachute Films is currently in the process of post-production of the full-length documentary Dead Souls' Vacation and the fictional feature film The Drummer, and is in the final stages of development of Grey Skies.

Author's statement
Gia, one of the main characters of Grey Skies is inspired by my long-time friend. I met him in the mid-90s when I was a teenager like Goga and played in his alternative rock band called "Immoral". While the film is not about me, I think many teenagers can draw parallels between themselves and Goga, who must make important choices while growing up. Thus, Ekaterine and I wrote Grey Skies – a story about the road from gang life to the search for freedom. It is about the life of a mobster, who has burned the bridges connecting him to his past and is trying to start a new life. We are both parents of teenage boys and have directly faced the challenges and traumas of our sons and their classmates. Many of their problems are caused by the invisible fascination for street life, which stems from the early 1990s in Georgia. Thus, together with our characters, we are searching for our voice and responsibility under "Grey Skies".

Producer's statement
When the lights go out in the cinema and the title Grey Skies appears on the screen, it will take new and experienced audiences, cinephiles and amateurs alike on a gripping journey. Grey Skies is a dynamic film featuring a young man's personal drama, inviting the viewer into post-Soviet Tbilisi, which is unknown to many yet not distant as it may seem. There are many successful films in this genre, including Estonia's Klass or Britain's This is England... the challenges of adolescence may be universal, but Grey Skies presents it in the exotic Georgian context, unique in its forms of expression and told from the experiences of its authors. Therefore, Grey Skies is our bold proposition for a wide and diverse audience. Having successfully passed all the stages of development, the film is ready to go into production with a stable and far-sighted plan.
Contact / Presenters
Konstantine Kalandadze | Director, Writer
Email: [email protected]
Mobile: +995 599 77 12 78

Elene Margvelashvili | Producer
Email: [email protected]
Mobile: +995 595 911 603

Horia
Horia
---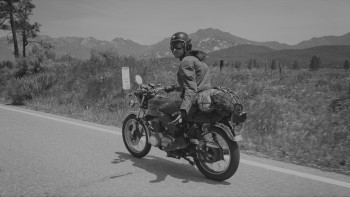 Directed by:
Ana-Maria Comănescu
Scriptwriter:
Ana-Maria Comănescu
Producer:
Carla Fotea, Ada Solomon
Estimated budget:
703,000 EUR
This film is director's debut.
Film synopsis
Horia, a 17-year-old boy with his head in the clouds, was born and raised in a Romanian village by his libertine father, Petrică. After graduating high school, his heart is broken by the girl he loves madly. On an impulse, he decides to take his father's old motorcycle and ride it illegally across the country in order to pursue her. The journey doesn't go as he imagines, as many obstacles appear along the way. He meets new people, from his father's ex-lover to a traveling circus band, and accidentally ends up accompanied for a while by Stela. She's a young, spunky, street-smart girl from an underprivileged family, who complicates his journey at first but ends up teaching him a lot about life. All the things that happen to Horia change his perspective on the moment, as he learns to let go of what cannot be changed and to enjoy life to the fullest.
Director's filmography
Horia grows up by becoming aware of his vulnerabilities and fears in the face of adversity, but also of the ever-present beauty around him. I see his journey essentially as a carpe diem manifesto. The tone of the film will be positive and imbued with candour, emotion and sometimes humour. From a visual standpoint, I am proposing a fresh reinterpretation of rural Romanian landscapes in the aesthetic of the great American open roads, which symbolises freedom. Progressing from a village to the fields and then to the mountains, I aim for careful, stylish compositions, full of colour and enhanced by natural sunlight in various hues. The motorcycle he rides is a Mobra, a notorious national brand of the Communist era. All of these elements build up the escapism of the film, which is underlined by an eclectic soundtrack containing plenty of obscure Romanian progressive rock tunes from the 1960s and 70s.

Company profile
Set up by Ada and Alexandru Solomon in 2012, Micro Film is an independent Romanian company working on local films, international co-productions, service productions and distribution for features and documentaries. It produces work by some of the key names of Romanian Cinema, such as Radu Jude, Alexandru Solomon, Ivana Mladenovic as well as emerging talents like Ana-Maria Comănescu, Ștefan Constantinescu, Sebastian Mihăilescu and Chiara Malta. It is also involved in co-productions with acclaimed directors such as Tomasz Wasilewski and Dragomir Sholev, among others.
Author's statement
Horia grows up by becoming aware of his vulnerabilities and fears in the face of adversity, but also of the ever-present beauty around him. I see his journey essentially as a carpe diem manifesto. The tone of the film will be positive and imbued with candour, emotion and sometimes humour. From a visual standpoint, I am proposing a fresh reinterpretation of rural Romanian landscapes in the aesthetic of the great American open roads, which symbolises freedom. Progressing from a village to the fields and then to the mountains, I aim for careful, stylish compositions, full of colour and enhanced by natural sunlight in various hues. The motorcycle he rides is a Mobra, a notorious national brand of the Communist era. All of these elements build up the escapism of the film, which is underlined by an eclectic soundtrack containing plenty of obscure Romanian progressive rock tunes from the 1960s and 70s.
Producer's statement
Ana-Maria's style sets her apart from what we are used to seeing in Romanian New Cinema and brings her closer to Classical Americanroad movies: she is keen on telling positive, colourful stories that apparently steer away from social commentary. We trust her vision and her ability to tell this boyhood-to-manhood story in a visually and emotionally gripping manner. We believe Horia holds something for everyone: a motivational message for young audiences to follow their dreams, to dare, and to keep exploring. It also provides a heartfelt nostalgic reminder for adults to look back on their own first loves and coming-of-age stories. We have Romanian financing in place and are currently looking for co-production partners and sales agents to join this adventure.
Contact / Presenters
Ana-Maria Comănescu | Director, Writer
Email: [email protected]
Mobile: +40 744 501 782

Carla Fotea | Producer
Email: [email protected]
Mobile: +40 754 090 595

How Is Katia?
Yak tam Katia?
---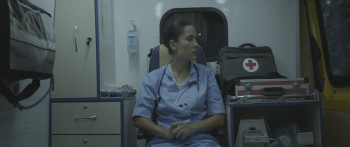 Directed by:
Christina Tynkevych
Scriptwriter:
Christina Tynkevych
Producer:
Veronika Stepanchuk
Estimated budget:
350,000 EUR
This film is director's debut.
Film synopsis
Anna, a 35-year-old doctor, lives a modest Kyiv life with her 10-year old daughter Katia. One morning Anna receives a call: her daughter has been hit by a car. Behind the wheel was 18-year-old Marina. Katia ends up in a coma. Marina's father is an influential media mogul with the right connections, and he quickly and efficiently attempts to sweep the situation under the rug. Anna decides to fight back and starts a war against this injustice. While everyone around Anna thinks it's hopeless, Marina has a battle of her own. The guilt begins to eat her from the inside out, but no one takes her seriously. Marina seeks redemption while Anna strives for revenge. At the lowest point of the story, Marina's life ends up in Anna's hands. Tempted to consider the worst, Anna saves the girl at the last moment. Katia is still in a coma, but the two women find their path to forgiveness and atonement.
Company profile
Evos Film is a Kyiv-based production company with more than 15 years of experience in film, television and the advertising market. The company's main focus is split between creating quality genre productions for local audiences while also handpicking the most ambitious and passionate director talents within the new generation of Ukrainian auteur filmmakers. At the moment, Evos's film slate of four projects, both local and international, in different stages of development.
Author's statement
As Solzhenitsyn said: "The battleline between good and evil runs through the heart of every man." And this "battleline" is our main point of interest. We all have clear markers of black and white when it comes to moral choices. And when everything is fine and our life is on track, those markers seem to be set in stone. However, once our comfortable world falls apart, we start acting differently. What does it take to remove the mask of a civilised human being? And what happens when society tolerates the moral "grey zone"? Both Anna and Marina have the right moral instincts, but they exist in a society which constantly teaches them to go against these instincts. This is because every Anna has a Marina, and every Marina an Anna. And, perhaps when it comes to morality, the "grey zone" is all there is.
Producer's statement
How is Katia? is a portrait of society through the prism of an intimate human tragedy. The film touches upon the pressing problems of today's Ukraine, while also dealing with the very universal themes of guilt and forgiveness, which audiences can relate to worldwide. Christina and Julia work in the realm of social realism, and their eye is turned towards portraying ordinary everydayness with all its complexities and semitones. Although the plot of the film plunges us into a sometimes brutal reality, the story is pierced with notes of irony and hope. It is also a rare script with two strong female characters in the foreground, leading the story uncompromisingly forward. We're confident that How is Katia? is a strong debut, which will become another great example of the quickly-expanding new wave of young Ukrainian filmmakers.
Contact / Presenters
Christina Tynkevych | Director, Scriptwriter
Email: [email protected]
Mobile: +380 679 914 081

Veronika Stepanchuk | Producer
Email: [email protected]
Mobile: +380 634 787 328

Rattlesnakes
Zvečarke
---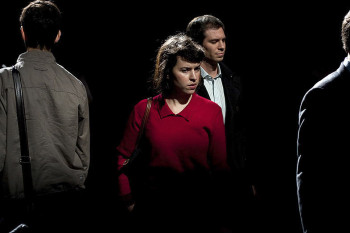 Directed by:
Nikola Ljuca
Scriptwriter:
Vuk Boskovic
Estimated budget:
838,000 EUR
Film synopsis
Nadja and Boris, a former activist couple, have changed their lives completely. Nadja works as an assistant in a big corporation that is planning to buy a weapons factory and turn it into agricultural land. Boris is striving to lead the presidential campaign for a big tycoon. After Nadja is raped by a colleague, her and Boris' world begin to merge. They try to regain their love, balancing between what they are afraid of and what they want. After finding documents that can overturn the course of the presidential campaign and the future of the old weapons factory, Nadja tries to save Boris from falling into a trap. Aware of all the lies, she is ready to bring the truth to light. But he isn't. Personal, corporate and state interests are confronted with love and moral values. The future of the whole society depends on their individual decisions. Things start to spiral out of control.
Company profile
BIBERCHE is an independent production company established in Belgrade by a duo of film professionals, producer Nikolina Vučetić Zečević and director Dejan Zečević, who have more than twenty years of experience and only one idea and intention – to produce good films. The company is committed to international cinema, working with confirmed directors and emerging talents and maintaining strong collaboration between the producer and the director. FILMOGRAPHY: feature film: 2019 Second Chance dir. by Marija Dzidzeva; 2017 Offenders dir. by Dejan Zecevic; 2014 These Are the Rules dir. by Ognjen Svilicic; 2011 The Enemy dir. by Dejan Zecevic; 2010 Vespa dir. by Diana Groo. POSTPRODUCTION: feature film: 2019 Ajvar dir. by Ana Maria Rossi; 2019 God in a Shoe dir. by Ognjen Svilicic, 2020 After the Winter dir. by Ivan Bakrac; 2020 In the Dusk dir. by Sharunas Bartas.

Author's statement
How do you react when freedom, just like everything else, becomes relative? Insecurity and fear are omnipresent and the suspense never stops. The story unfolds from the two perspectives of my main characters – Nadja and Boris. We observe them meticulously and carefully, always from a new angle as we follow them and their lives. Though the film itself is not a thriller, the tension will be constant. The camera will be motivated by character movements and framing will be tight. "Mise en scene" will never seem overcrowded and lighting will be naturalistically dim. The sound in the film will be treated like a supporting character – multi-layered and always present, functioning almost like a musical score. The films I like the most deal with friction, edges and gaps. A new age demands a new body. The question is – who can survive this? A rat in a maze is free to go anywhere, as long as it stays inside the maze.
Producer's statement
Rattlesnakes presents a scathing portrait of a neo-capitalist society sullied by corruption and is a logical continuation of the director's path, which he began with his first film Humidity. In the capitalist order, which leaves too little room for everything that is human, characters are forced to make the choice of whether they will agree to become victims or criminals, or both. Nuanced and truly complex characters, whose moral structure changes during the film itself, is a pleasant refreshment to monotone films that emerge from the European cinema's mainstream. Ljuca will deconstruct today's Balkan men and women, who face the same problems as people from the rest of Europe. Producers from three countries – Serbia, Croatia, France – have already gathered around this project to make an exciting, powerful and brave film in a European framework.
Contact / Presenters
Nikola Ljuca | Director
Email: [email protected]
Mobile: +381 652 041 693

Maja Ilic | Producer
Email: [email protected]
Mobile: +381 652 250 431

Riviera
Riviera
---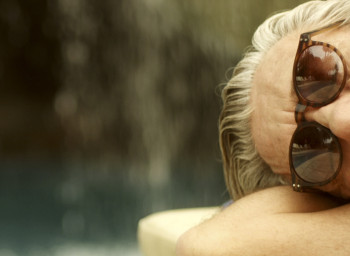 Directed by:
Orfeas Peretzis
Scriptwriter:
Orfeas Peretzis
Producer:
Konstantinos Vassilaros
Genre:
girlhood tragicomedy
Estimated budget:
674,512 EUR
This film is director's debut.
Film synopsis
After finishing school, Alkistis (17) spends her summer at home in a family hostel on the Athens Riviera. She mostly argues with her mother Anna and her godfather, talks to an old palm tree and maintains an altar in memory of her dead father. In order to stay in the hostel forever, Alkistis pretends she has failed her school exams. When Anna reveals that she has sold the hostel, Alkistis begins to rebel against her and starts an affair with a hostel guest Makis (38), using him as an excuse to keep things the way they are. She spirals into a dangerous obsession whilst her mother collapses emotionally. Heartbroken and sucked into loneliness, she finally connects with a boy her age and has a vision of her dead father. She returns to burn the altar, waking up under the dead palm tree, which is taken away by a crane. In the end, mother and daughter overcome an idolized past that is no longer possible.
Company profile
StudioBauhaus, based in Athens and founded in 2014, quickly established itself as an emerging production company aiming to tell stories with a solid narrative for international audiences while working with young, promising and more established directors. Vardis Marinakis' (Black Field, 2010) recently-completed sophomore feature Zizotek (2019) will premier in competition at this year's Karlovy Vary IFF. Araceli Lemos' debut Holy Emy (CineLink 2017 winner, EAVE & Ties That Bind project) has already secured funding from Greece and France and aims to shoot in late 2019. Elina Psykou's (Son of Sofia, 2017) 3rd project Patrimonial Fears & Other Symptoms in early development in association with Homemade Films was presented at Berlinale's Co-Pro. StudioBauhaus also ran the Athens painting-animation studio for the Oscar-nominated Loving Vincent (2017). Riviera was developed through MFI & MIDPOINT Feature Launch.
Author's statement
Riviera is about a mother and daughter overcoming the trauma of their idolized dead father and husband through the sale of their home. It's a study of a teenage girl and her nostalgic obsession with a haunting past. A fixation built upon a missing father figure fuelled by her mother hiding her emotions. For Alkistis, people are not meant to depart, even if they die, and trees are like Gods that can live forever. This fear of departure has gigantic dimensions, which are disguised by a teenage melodrama and Alkistis' unstoppable tragicomic inner voice – which the audience will hear – constantly searching for catharsis. This is not a summer of change only for Alkistis, but for everyone involved in the story. E. Rohmer's Tale Films are a good reference. Locations closely tied to the narrative, an ode to loneliness and romanticism, set in a fading summer holiday destination.
Producer's statement
Filming will take place in Lagonissi, off the Athens Riviera, an area developed during the 1970s which has an evocative charm despite looking out of date. It brings nostalgic memories of the good times of the 1990s and 2000s, which ended abruptly with the 2009 crisis, much like our story concerning the death of Alkistis' father. This "last summer tale" brings things to an inevitable end – a resolution – in order for them to move forward. Our target audience are women aged 35 to 45. We are interested in co-producers from Italy, France, Romania, and the Balkans; we want to form relationship with the right sales agent early on to follow the project through. With Orfeas Peretzis as a director and collaborator, we have produced five shorts and one documentary. I personally connect to this story through memories of that same area where I grew up and the period for our country's need to get over our old and recent past; find a new identity.
Contact / Presenters
Orfeas Peretzis | Director, Writer
Email: [email protected]
Mobile: +30 213 0322 117

Konstantinos Vassilaros | Producer
Email: [email protected]
Mobile: +30 698 5997 751

Some Birds
Valami Madarak
---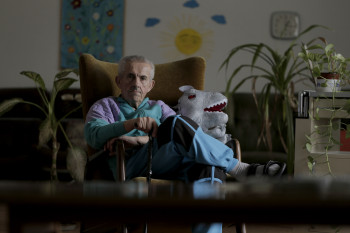 Directed by:
Dániel Hevér
Scriptwriter:
Zsanett Kertész
Producer:
László Dreissiger
Estimated budget:
450,000 EUR
This film is director's debut.
Film synopsis
Aging, lonesome Béla (78) is moved to a nursing home against his will by his estranged son, where he must spend his days with an impulsive teenage girl Zoé (17), who is sentenced to do social work at the home. They both struggle with their families: Béla wants to prove to his son that he is capable of living independently. Zoé's fear of becoming like her promiscuous and deeply unhappy mother is so strong that she keeps rejecting the boy she likes. When Béla decides to get out of the home, Zoé embarks on a journey with him through the bureaucracy of the Hungarian health care system to prove that he is self-sufficient. The time they share and the experiences they encounter turns them into allies, enabling them to confide in each other. Although Béla fails to achieve his goal, the trust and warmth they gain from this friendship enables them both to accept reality and find the strength to face their fears.
Company profile
Filmfabriq Ltd. was founded in 2012; producing partner László Dreissiger joined it at the beginning of 2016. In 2018 the company took two big steps: it produced its first feature film and TV movie at the same time: the upcoming TV-film for Academy Award winner Kristóf Deák Captives and the first feature Impromptu, directed by Zoltán Nagy, with funding from the HNFF Incubator Programme. Both films are about to be released in fall 2019. Other recent notable productions include The Three Kurtágs (in co-production with France), the Polish service feature film Life Must Go On! and the second short by Kristóf Deák, entitled Best Game Ever (screened in Short Shorts Tokyo, selected to Brest and Interfilm). Other ongoing projects: the film titled Nagykarácsony directed by Daniel Tiszeker can proceed to pre-production. The feature documentary One Boy by Alexa Bakony is currently in production.
Author's statement
A few years ago, when my Grandma's dementia was getting worse, we were faced with a question: would it be better for her to live in a nursing home? This debate tore my seemingly well-functioning family in two and I couldn't help but notice the lack of social discourse about old age and care for the elderly. I felt like society at large was ignoring the fact that between middle age and death there is also a life stage, a time when people need love and understanding. We are all afraid of getting old. It is scary to forget, to lose yourself, your personality, your hopes and dreams, and to live without desires and plans because you think that there is no time to reach or accomplish them. These themes – facing the ends of our lives, getting old, dealing with our families, and finding a friend from an unexpected place – are universal, and I want to portray them in a subtle and humanistic way.
Producer's statement
I was introduced to the project last fall. I have known Daniel closely for many years, and our professional lives have crossed paths previously in different stages. This fact helped in our initial conversations. I was blessed that Daniel and Zsanett found a topic that I'm personally deeply interested in and affected by. Talking about a socially ignored and at the same time rather heavy topic is not an easy task, but, to my great pleasure, the two found a surprisingly uplifting tonality. Currently we're working on the scriptment of the book. In addition to MIDPOINT, Some Birds received script development support from Filmjus Hungary. After MIDPOINT, we're planning now to go through the regular phases of the Film Fund's process with an estimated production budget of 450,000 EUR.
Contact / Presenters
Dániel Hevér | Director
Email: [email protected]
Mobile: +36 306 253 635

Zsanett Kertész | Writer
Email: [email protected]
Mobile: +36 309 108 169

László Dreissiger | Producer
Email: [email protected]
Mobile: +36 702 354 023

Traces
Tragovi
---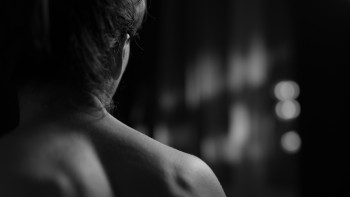 Directed by:
Dubravka Turić
Scriptwriter:
Dubravka Turić
Estimated budget:
994,210 EUR
This film is director's debut.
Film synopsis
After the death of her father, Ana (41), a single woman with vitiligo disease, suddenly faces a series of synchronicities. Her anthropological research of ancient tombstone symbols mysteriously interlaces with her life. The pattern of symbols randomly appears around her, in everyday objects or city graffiti. Ana's anxiety grows. As the last member of a once-large family, she fights with an identity crisis. After selling the family apartment, Ana heads to her father's native village. The last villager Jozo (49) takes her up the mountain to the land she has inherited. On their way, Ana sees mystical stone marks and learns that they are signposts indicating a passage. Suddenly she perceives all signs as communication with her ancestors and the symbols of the right path. Ana regains her confidence, moves on and finally stops hiding her vitiligo marks, the traces of her traumas.
Company profile
Kinorama is a film production company founded in Zagreb in 2003 by Ankica Jurić Tilić, Hrvoje Pervan and Dragan Jurić. So far, Kinorama has produced 25 feature-length films, some of which are co-productions, 25 shorts and three TV series. Some films were the top box office hits in the cinemas, and all of them were screened at numerous festivals around the world, winning over two hundred awards. Kinorama's artistic team is composed of established authors and debutants alike. Some of Kinorama's latest titles include Quit Staring at My Plate by Hana Jušić (Venice Days 2016 – FEDEORA Best European film, 33 international and national film awards, Croatian candidate for AA) and The High Sun by Dalibor Matanić (Cannes FF 2015 – Jury Prize winner; nomination LUX Prize, Croatian candidate for AA, 30 international and national awards).
Author's statement
This film is based on my personal experience of loss and family disintegration. Migrations change our world, leaving empty homes as the only remains of once numerous families. With a poetic visual style, I want to emphasize the contrast between the old and the new; the rich textures of empty baroque buildings against the geometry of modern urban areas; raw landscapes against the traces of human existence. Ana is the last one of her family and through her emotional journey I want to tackle the nostalgia and the inner strength needed to let things go. Her research of mystical symbols is the reflection of her search for a way out of her own maze. The synchronicities she faces serve to connect the internal and the external, the spiritual and the mundane, and to show the constant human desire to leave a trace and communicate, bridging time and space.
Producer's statement
With her fist two shorts, Dubravka Turić certainly managed to draw the attention – her film Belladonna premiered at Venice IFF 2015, winning the Orizzonti Award for the best short, while her second film Cherries premiered at Quinzaine des réalisateurs. It was not surprising that she approached us for her first feature film, as our company tends to work often with first-time directors, trying to provide the optimum support for new talents. We are developing this project with the utmost care, both in the artistic and practical aspect, and doing our best to secure the best partners for the project and the best possible international path.​ Traces is a very subtle and honest story about a new beginning, self- awareness, roots and belonging – we hope its essence is universal and recognizable and we certainly hope it will find its place on a wider international market.
Contact / Presenters
Dubravka Turić | Director, Writer
Email: [email protected]
Mobile: +385 981 835 714

Ira Cecić | Producer
Email: [email protected]
Mobile: +385 911 711 648