Archive of films

Road to San Diego / El camino de San Diego
Argentina
2006, 98 min

Section: Another View
Year: 2007
Young forest labourer "Tati" Benitez is obsessed by Diego Maradona. When this idol of football fans all over the world is suddenly hospitalised in Buenos Aires on 17 April  2004, Tati is resolved to undertake an odyssey across Argentina to the capital city in order to hand his icon a truly unusual gift...
Synopsis
When Eva Perón was gravely ill in Buenos Aires in 1952, a wave of demonstrations broke out; crowds of ordinary Argentinians wanted to try and help her and get close to her. For them, she became the kind of unattainable symbol that legendary footballer Diego Armando Maradona was to become fifty years later. After the soccer star was hospitalised in Buenos Aires on 17 April 2004 having suffered a heart attack, this same phenomenon of almost pious adoration was repeated. The protagonist in Sorin's story, the young forest labourer "Tati" Benítez, believes that if he is able to get close to Maradona and meet his idol in person, his life will change for the better. And so the naïve pilgrim sets off on a journey from a God-forsaken little town in northern Argentina across the Pampas in order to present his icon with a curious gift…
About the director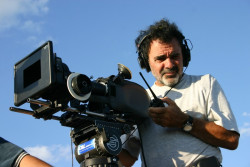 Carlos Sorin (b. 1944, Buenos Aires) began as a director of commercials. His feature debut A King and His Movie (La película del rey, 1986) brought him the Silver Lion at the Venice IFF and the Goya award for Best Spanish Language Foreign Film. After a three-year interval he made the films Eversmile, New Jersey (Eterna sonrisa de New Jersey, 1989) starring Daniel Day-Lewis, and the road movie Minimal Stories (Historias mínimas, 2002). This film, screened at the KVIFF in 2003 in the section Forum of Independents, also won the Special Jury Prize and the FIPRESCI prize at San Sebastian, plus another Goya. The Karlovy Vary festival has also featured his film Bombón - El Perro (El perro, 2004). He continues this series of road movies with The Road to San Diego, which won the Special Jury Prize at San Sebastian.
About the film
Color, 35 mm

| | |
| --- | --- |
| Section: | Another View |
| | |
| Director: | Carlos Sorin |
| Screenplay: | Carlos Sorin |
| Dir. of Photography: | Hugo Colace A.D.F. |
| Music: | Nicolás Sorin |
| Editor: | Mohamed Rajid |
| Producer: | Oscar Kramer, Hugo Sigman |
| Production: | Guacamole films, K&S films |
| Cast: | Ignacio Benítez, Carlos Wagner La Bella, Paola Rotela, Silvina Fontelles, Miguel Gonzalez Colman, Juan Villegas, Walter Donado, Aníbal Maldonado |
| Contact: | TF1 STUDIO |