Russia
2007, 90 min

Section: Horizons
Year: 2008
This film, hailed by Russian critics as the most important screen event of the year, draws attention to the inauspicious traits of the Russian mentality. The filmmaker strengthens his message using hyperbole not only in the thriller elements of the story but also in his choice of precise spatio-temporal setting, namely the year 1984, a period when the marasmus of the stagnating regime was at its worst.
Synopsis
The film is set in the industrial town of Leninsk in the Orwellian year of 1984, in the last few days when the marasmus of the stagnating regime had reached its culmination. Planes are landing with their "cargo 200" – zinc coffins from Afghanistan. The story details the criminal activities of police chief Zhurov, as motifs of corruption and impunity thread their way through the plot, along with the violence which Zhurov commits with the steely gaze of a maniac. His chosen victims are the daughter of a Party secretary, a drunk wandering the streets, a Vietnamese labourer and a philosophical dreamer...  The gallery of period characters also includes the commander of a military garrison, a lecturer in atheism and a young man who, anticipating the perestroika era, deals in furs on the black market... Despite its potential thriller label, the director characterises his film as a tragedy. He refers in particular to the inauspicious traits of the Russian mentality, incapable of a rational response to the circumstances of both repression and freedom. Russian critics at the Sochi FF described Cargo 200 as the most important work in recent years.
About the director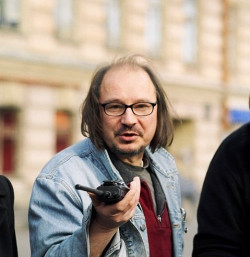 Alexej Balabanov (b. 1959, Sverdlovsk, Russia) studied translating in Gorky (1981) and later graduated from the Advanced Course for Scriptwriters and Directors in Moscow (1990). He settled in St Petersburg where he directed and scripted the following films: Happy Days (Schastliviye dni, 1991), based on Beckett, The Castle (Zamok, 1994), based on Kafka, the aesthetic retro Of Freaks and Men (Pro urodov i lyudyei, 1998, screened at the KVIFF), and the cult action films Brother (Brat, 1997, screened in competition at the KVIFF) and Brother 2 (Brat 2, 2000). The film War (Voyna, 2002) is set in Chechnya. The satire Blind Man's Bluff (Zhmurki, 2005) focuses on the mafia business world of the Nineties, and the melodrama It Doesn't Hurt (Mnye nye bolno, 2006) examines professional moral dilemmas of the present. His films have won important domestic awards and have been well received at various IFFs, as has Cargo 200.
Contacts
Intercinema XXI Century
Druzhinnikovskaya Str. 15, 123 242, Moscow
Russia
Tel: +7 499 255 9052, +7 499 255 9082
Fax: +7 499 255 9053
E-mail: [email protected]
www: www.intercinema.ru

About the film
Color, 35 mm

| | |
| --- | --- |
| Section: | Horizons |
| | |
| Director: | Alexey Balabanov |
| Screenplay: | Alexej Balabanov / Alexey Balabanov |
| Dir. of Photography: | Alexander Simonov |
| Editor: | Taťjana Kuzmičeva / Tatyana Kuzmicheva |
| Producer: | Sergej Seljanov / Sergey Selyanov |
| Production: | CTB Film Company |
| Cast: | Alexej Serebrjakov / Alexey Serebryakov, Leonid Gromov, Jurij Stěpanov / Yuri Stepanov, Agnija Kuzněcova / Agniya Kuznetsova, Alexej Polujan / Alexey Poluyan |
| Contact: | Intercinema XXI Century |