Archive of films

Children of the Dark / Yami no kodomo-tachi
Japan
2008, 137 min

Section: Horizons
Year: 2008
An impressive and starkly indiscriminate film that confronts audiences with the world of child prostitution and the black market in human organs in Thailand. The film does not read any melancholic sentiment into its subject matter but instead captures it with rigorous complexity. It shows not only the victims but also the weight of the guilt borne by those who supply the demand for child trafficking.
Synopsis
The film was based on the theme of a controversial novel by Japanese-Korean author Yan Sogil, whose autobiography was the basis for the commercially and critically successful Blood and Bones (Chi to hone, 2004). The theme in this case is the drastic fate of Thai children trapped in the machinations of child prostitution and the black market in human organs. This new work from established Japanese director Sakamoto Junji differs from other films on similar themes in its unwillingness to lapse into primitive extremes and blatant manipulation of feelings, instead taking a comprehensive and indiscriminate view of the topic. The film does not console audiences with the idea of events taking place in a far-off land, and points a finger at Japan's association with the problem, the key grounds for which are shown as apathetic dismissal, the unwillingness to acknowledge problems beyond the borders of one's own country and the burden of guilt upon those who create the demand for child prostitution and trade in children's organs.
About the director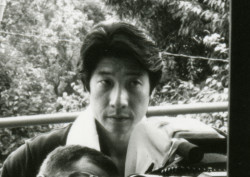 Sakamoto Junji (b. 1954, Sakai) is one of Japan's versatile filmmakers who alternate between his own work as writer-director outside the studio, ambitious projects for the viewing public and costly commercial commissions. For this reason he is credited with critically acclaimed pieces of modern Japanese cinema like Knockout (Dotsuitarunen, 1989), Face (Kao, 2000) and My House (Bokunchi, 2003). In addition to these, his name has also figured among box-office contenders that have included the revival of the legendary yakuza series Another Battle (Shin jingi naki tatakai, 2000), the nationalistic action spectacle Aegis (Boukoku no iijisu, 2005) and the hotly awaited action thriller Chameleon (2008). The film Out of This World (Kono yo no soto e, 2003) was shown in competition at the Karlovy Vary festival in 2004.
Contacts
Shochiku Co., Ltd.
4-1-1 Tsukiji, Togeki Bldg. 12th Floor, Chuo-Ku, 104 8422, Tokyo
Japan
Tel: +81 355 501 623
Fax: +81 355 501 654
E-mail: [email protected]
www: www.shochikufilms.com

About the film
Color, 35 mm
World premiere
| | |
| --- | --- |
| Section: | Horizons |
| | |
| Director: | Sakamoto Junji |
| Screenplay: | Sakamoto Junji podle románu / based on the novel by Yan Sogil |
| Dir. of Photography: | Kasamatsu Norimichi |
| Music: | Iwashiro Taro |
| Producer: | Toya Nobuyuki, Nakazawa Toshiaki, Shill Yukiko |
| Production: | Sedic International, Geneon Entertainment, Amuse |
| Cast: | Eguchi Yosuke, Miyazaki Aoi, Tsumabuki Satoshi, Praptpadol Suwanbang, Prima Ratchata |
| Contact: | Shochiku Co., Ltd. |
| | |
| www: | www.yami-kodomo.jp |
Guests
Sakamoto Junji
Film Director, Film Director