Promising Iranian director Asghar Farhadi, like Antonioni, has his heroine go missing while on a trip with friends. Can they find Elly? And while she is gone what do we find out about the other protagonists? The film was awarded a Silver Berlin Bear for Best Director.
Synopsis
A group of old friends sets out on a trip to the Caspian Sea. As is tradition, they throw money into a box before leaving, but can their return be truly lucky when some of the travelers are concealing secrets? And what effect does the disappearance of nursery school teacher Elly have on their carefree mood? This unostentatious film, focusing on the contemporary young generation, provokes questions of both personal and shared responsibility and guilt. While Elly's disappearance keeps both protagonists and viewers in suspense, the latter can sit back and judge the characters as they struggle with an unexpected situation which the director portrays with an emphasis on the role of coincidence. The tension created by Elly's disappearance is pushed aside, though certainly not dropped, in favor of contemplating freedom of behavior and the possibility of redemption. And while the story's resolution is unambiguous, audiences will reflect on the characters' conduct even after the movie is over.
About the director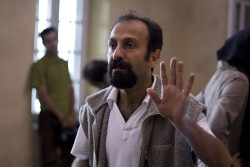 Asghar Farhadi (b. 1972, Isfahan) started out shooting Super 8 and 16 mm movies. While studying film direction at Tehran University, he worked as a director for television and wrote radio plays until he graduated with a master's in 1998. Besides several shorts, Farhadi's first foray into film was the script for Low Heights (Ertefae past, 2001). His directorial debut came with Dancing in the Dust (Raghs dar ghobar, 2003), which took Best Actor at the Moscow film festival. His next two movies, Beautiful City (Shah-re ziba, 2004) and Fireworks Wednesday (Chahar shanbeh souri, 2006), were screened at numerous festivals. The director's fourth film, About Elly, competed at Berlin, 2009.
About the film
Color, 35 mm

| | |
| --- | --- |
| Section: | Horizons |
| | |
| Director: | Asghar Farhadi |
| Screenplay: | Asghar Farhadi |
| Dir. of Photography: | Hossein Jafarian |
| Editor: | Hayedeh Safiyari |
| Producer: | Asghar Farhadi, Mahmoud Razavi |
| Production: | Simaye Mehr |
| Cast: | Golshifteh Farahani, Taraneh Alidousti, Mani Haghighi, Shahab Hosseini, Merila Zarei, Peyman Moadi, Rana Azadivar, Ahmad Mehranfar, Saber Abar |
| Contact: | DreamLab Films |
Guests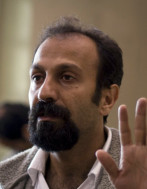 Asghar Farhadi
Film Director