Slovak Republic / Czech Republic
2009, 65 min

Section: Documentary Films - Competition
Year: 2009
In this cheerful "document-toury movie" by Other Worlds creator Marko Škop, an Orthodox priest, a long-serving mayor, and a Ruthenian activist set out on a journey from the remote eastern Slovak village of Osadné for the European Parliament in Brussels.
Synopsis
The village of Osadné lies on the farthest eastern border of the European Union. Local Orthodox priest Peter Soroka has buried 50 people in the past five years and baptized merely two children. Soroka's civilian counterpart is Mayor Ladislav Mikuláško, a political record-holder who has been the village bigwig for 36 years. These two unusual local patriots decide to take the future of Osadné into their own hands and, with the help of Ruthenian activist Fedor Vico, seek help from the highest authorities. In his "document-toury movie," Marko Škop follows the protagonists on a journey to the European Parliament in Brussels where he witnesses their efforts to involve a friendly European deputy in strengthening the tourist industry in order to save it. Similar to his previous film Other Worlds (Iné svety), the director is concerned about the authenticity of the "non-globalized" individual, whom he here perceives far more in the context of his community, and confronts with the world beyond the borders of his native village.
About the director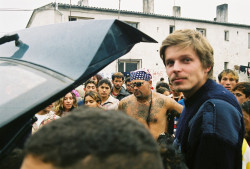 Marko Škop (b. 1974, Prešov, Slovakia) graduated in journalism from the school of humanities of Bratislava's Comenius University (1996) and in documentary filmmaking from the Academy of Performing Arts (VŠMU) in Bratislava (2001). He works as a director and producer of documentary films. At the 41st KVIFF, Other Worlds (Iné svety, 2006) took Best Documentary – Special Mention, as well as the Audience Award out of a field of more than 200 films. Last year he produced his friend Juraj Lehotský's feature-length debut Blind Loves (Slepé lásky), screened in the Directors' Fortnight section at the 2008 Cannes festival (Art Cinema CICAE Award) and in the documentary competition that same year at the KVIFF.
About the film
Color, 35 mm
World premiere
| | |
| --- | --- |
| Section: | Documentary Films - Competition |
| | |
| Director: | Marko Škop |
| Screenplay: | Marko Škop |
| Dir. of Photography: | Ján Meliš |
| Editor: | František Krähenbiel |
| Producer: | Marko Škop, Ján Meliš, František Krähenbiel, Filip Remunda |
| Production: | Artileria |
| Contact: | Artileria |
| | |
| www: | www.osadne.com |
Guests
Marko Škop
Film Director, Producer
Ján Meliš
Producer
František Krähenbiel
Film Editor, Film Editor
Jaroslav Tkáč
Other