Archive of films

Athens-Istanbul / Athina - Konstadinoupoli
Greece
2008, 103 min

Section: Horizons
Year: 2009
An existential odyssey about an aging man whose desolate life is offered hope in the form of a liberal-minded girl and an elderly clarinetist. Can music – or love – save him? Or is there no help? This grimly melancholy road movie is the work of Greek director Nikos Panayotopoulos.
Synopsis
He is a graying, introverted, elegant man without energy or desires, and she will call him "Bonjour, tristesse." They meet in a traffic jam caused by striking farmers on the Athens-Istanbul road, and he can't resist – not her spontaneous directness nor her companion, an old clarinetist who plays like a god. Like a blind man lacking will, he follows them, seemingly in the hope that music (or love) can once again fill a life wasted resolving divorce cases, the last of which was his own. The original goal of the journey, visiting his sick father, is forgotten in his quest for renewed youth, which can give as much as it can take.... This murkily melancholy journey between Europe and Asia and between depression and hope moves to the music of jazz, whose mournful tones comment on the futility and distractability of human desires.
About the director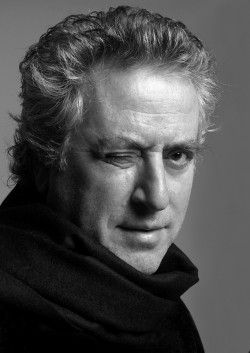 Nikos Panayotopoulos (b. 1941, Mytilene, Greece) studied film in Athens. From 1960 to 1973 he lived in Paris, where he attended the Film Institute of the Sorbonne and was a regular at the Cinemathèque. Since 1973 he has lived and worked in Athens. After making several short films, he debuted with the feature The Colors of the Iris (1974). The Idlers of the Fertile Valley followed in 1978 and was awarded the Golden Leopard at the Locarno IFF and a Silver Hugo at Chicago. After Melodrama (1981), Varieties (1984), and The Woman Who Dreamed (1988) he shot I Dream of My Friends (1993). Other films: Beautiful People (2001) and I'm Tired of Killing Your Lovers (2002). Delivery (2004) was screened in 2005 in the Horizons section of the KVIFF.
Contacts
Greek Film Centre
7 Dionissiou Areopagitou, 117 42, Athens
Greece
Tel: +30 210 367 850 0
Fax: +30 210 3648269
E-mail: [email protected]
www: www.gfc.gr

About the film
Color, 35 mm

| | |
| --- | --- |
| Section: | Horizons |
| | |
| Director: | Nikos Panayotopoulos |
| Screenplay: | Nikos Panayotopoulos, Michel Fais |
| Dir. of Photography: | Kostis Gikas |
| Editor: | Takis Yannopoulos |
| Producer: | Marianna Panayotopoulou |
| Production: | Greek Film Centre |
| Cast: | Lefteris Voyadzis, Alexia Kaltsiki, Dimitris Poulikakos |
| Contact: | Greek Film Centre |