Yorgos is released from prison after 14 years. He spends his first night of freedom in a cheap Athens hotel where he meets Strella, a young transsexual prostitute. They spend the night together and soon fall in love. But Yorgos's past is about to catch up with him.
Synopsis
After serving 14 years in prison for killing his nephew, Yorgos (Yiannis Kokiasmenos) is released and goes to Athens, where he hopes to find the son he hasn't heard from in years. He spends his first night of freedom in a cheap, downtown Athens hotel. There he meets Strella (Mina Orfanou), a young transsexual who makes her living as a prostitute. Yorgos and Strella end up spending the night together and soon they fall in love. With Strella by his side, Yorgos feels confident that he can mend his broken relationship with his son and make a new start, but it isn't long before he is confronted with a burden from his past. A post-modern Greek tragedy set in the glowing nights of Athens, A Woman's Way is a love story that defies all conventions. It questions preconceived ideas and feelings, and stresses the importance of respecting and reconciling oneself with Otherness. Mina Orfanou won the Hellenic Film Academy's Best Actress Award for her portrayal of Strella.
About the director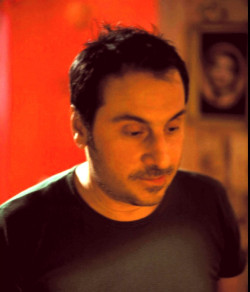 Panos H. Koutras (Athens) studied at the London International Film School and then in Paris at the Sorbonne. From 1985 to 1995 he lived in Paris and London and made several short films which participated in festivals such as the London FF and the Festival du Cinéma Méditerranéen, where in 1991 his short film The Fall and Rise of Lydia Von Burer won First Prize. In 1995 he founded 100% Synthetic Films and started working on his first feature, The Attack of the Giant Moussaka (Epithesi tou gigantiaiou mousaka, 2000). His next film, Real Life (Alithini zoi, 2004), became a critics' favorite in Greece (winning the 2004 National Critics Award) and traveled to the Toronto IFF. A Woman's Way, which premiered at the 59th Berlinale (Panorama section), is his third feature.
About the film
Color, 35 mm

| | |
| --- | --- |
| Section: | Young Greek Cinema |
| | |
| Director: | Panos H. Koutras |
| Screenplay: | Panos H. Koutras, Panayiotis Evangelidis |
| Dir. of Photography: | Olympia Mitilinaiou |
| Music: | Mikael Delta |
| Editor: | Yiannis Chalkiadakis |
| Producer: | Panos H. Koutras |
| Production: | 100% Synthetic Films |
| Cast: | Mina Orfanou, Yiannis Kokiasmenos, Minos Theoharis, Betty Vakalidou, Akis Ioannou |
| Contact: | Playtime |