Archive of films

Plato's Academy / Akadimia Platonos
Stavros runs a tobacco store and spends his days idly. His wife has left him and he lives with his mother who has had a stroke. One day, an Albanian passing by recognizes Stavros's mom as his own long-lost mother.
Synopsis
Athens, the district of Plato's Academy. A small, quiet junction with three tobacco stores and a dog. Stavros (Antonis Kafetzopoulos) owns one of them. His wife (Maria Zorba) has left him and refuses to come back; his mother (Titika Saringouli) has had a stroke and he has to take care of her. The three tobacconists' favorite hobby is counting the Chinese who are setting up shop across the street. They only stop counting if an Albanian goes by, then they bet on whether the dog will bark at the Albanian or not. This is how they spend their days, watching life go by outside their stores. Yet Stavros is constantly worried and inexplicably unhappy; he suffers from insomnia and is unable to pinpoint what is wrong. Then one day, an Albanian (Anastas Kozdine) passing by recognizes Stavros's mom as his own long-lost mother. Intelligent and funny, the film examines the theme of identity crisis and observes Greek society as it faces Otherness.
About the director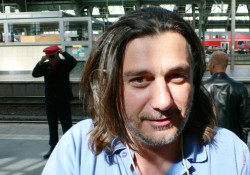 Filippos Tsitos (b. 1966, Athens) has lived in Berlin since 1991. He studied business administration and has worked as a photographer, assistant director, music supervisor, and radio producer. He studied film direction at the German Film and Television Academy in Berlin. His short film Parlez-moi d'amour (1994) won the German State Gold Prize and was nominated for a Student Oscar. His first feature, My Sweet Home (2001), was presented in the Official Competition at the 51st Berlinale in 2001. His second feature, Plato's Academy (2009), premiered at Locarno where it won the Best Actor Award, as well as the Ecumenical and Youth Prizes. It was also nominated for the LUX Prize of the European Parliament in 2010. His new film, Unfair World, is currently in post-production.
Contacts
Greek Film Centre
7 Dionissiou Areopagitou, 117 42, Athens
Greece
Tel: +30 210 367 850 0
Fax: +30 210 3648269
E-mail: [email protected]
www: www.gfc.gr

Pan Entertainment
44 Chrysostomou Smirnis str. Chahlandri, 15233, Athens
Greece
Tel: +30 210 698 505 0, +30 694 484 601 2
E-mail: [email protected]
www: www.pan.com.gr

About the film
Color, 35 mm

| | |
| --- | --- |
| Section: | Young Greek Cinema |
| | |
| Director: | Filippos Tsitos |
| Screenplay: | Alexis Kardaras, Filippos Tsitos |
| Dir. of Photography: | Polidefkis Kirlidis |
| Music: | Enstro |
| Editor: | Dimitris Peponis |
| Producer: | Constantinos Moriatis |
| Production: | Pan Entertainment |
| Cast: | Antonis Kafetzopoulos, Anastas Kozdine, Titika Saringouli |
| Contact: | Greek Film Centre, Pan Entertainment |
| | |
| www: | www.pan.com.gr |
Guests
Maria Drandaki
Producer