Archive of films

Asleep in the Sun / Dormir al sol
When Diana is given some hope of a cure for her mental illness, her husband, watchmaker Lucio, is delighted. However, it isn't long before his joy is blighted by misgivings that something dangerous might be going on in the institution. This poetically retro story adds a new dimension to the assertion that a dog is man's best friend.
Synopsis
Watchmaker Lucio devotedly looks after his wife Diana, who shows clear signs of mental illness. When he realises she needs professional care, he has her placed in an experimental institution for treatment. Then strange things start to happen. Are they a figment of his similarly afflicted mind, or is there really something unsavoury going on? The story, set in the mid-20th century, conjures up an intriguing blend of melancholic retro atmosphere and sense of menace. The film hovers on vague borders between reality, illusion and fixation, lending the intimate story of the loving couple an air of magic realism. Scenes from the home environment thus stand alongside motifs from the institution, where both people and dogs are patients. The film's perspective accommodates the characters' disturbed state of mind, and despite their obvious commitment to one another, the married couple's coexistence balances on a precarious line. The moment the family finds peace of mind, their tranquillity then seems to elude them, and traces of disquiet remain even after the wife mysteriously recovers.
About the director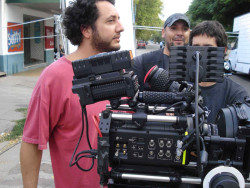 Alejandro Chomski (b. 1968, Buenos Aires) studied film direction at the American Film Institute, graduating with the short film Dry Martini (1998), whose cast includes Vincent Schiavelli and Scott Cooper. After working on several short and medium-length films he debuted with the feature Today and Tomorrow (Hoy y mañana), which competed in 2003 in the Un Certain Regard section at Cannes and in the Forum of Independents at Karlovy Vary. In 2007 he directed a film about an aspiring rapper, Feel the Noise, and, a year later, the drama A Beautiful Life. Asleep in the Sun, an adaptation of the novel by Adolfo Bioy Casares, is his fourth feature film.
Contacts
Alejandro Chomski
Arroyo 804 # 10 "A', 1007, Buenos Aires
Argentina
Tel: +54 911 449 903 30
E-mail: [email protected]

About the film
Color, DCP
European premiere
| | |
| --- | --- |
| Section: | Another View |
| | |
| Director: | Alejandro Chomski |
| Screenplay: | Alejandro Chomski podle románu / based on the novel by Adolfo Bioy Casares |
| Dir. of Photography: | Sol Lopatin |
| Music: | Ruy Folguera |
| Editor: | Ale Brodershon |
| Producer: | Alejandro Chomski |
| Cast: | Luis Machin, Florencia Pena, Carlos Belloso |
| Contact: | Alejandro Chomski |
Guests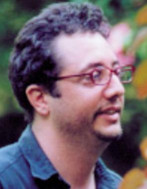 Alejandro Chomski
Film Director