To be, or not to be, a mother? That is the question Isadora, now well into her eighties, is finally going to have to answer.... Another remarkable work from a directing duo still enjoying the success of their previous film The Maid.
Synopsis
Isadora lives an uneventful life with her spouse Enrique and their two contented chubby cats. Despite being well into her eighties and showing signs of increasing senility, she enjoys an independent existence surrounded by her books and antiques. But Isadora's secure, stereotypical life starts to crumble: the lift breaks down one day and her daughter Rosario visits her eighth floor flat with her lesbian partner Hugo – and yet another scheme to make them all rich. Old wounds fester, accusations are hurled, but the tension between mother and daughter culminates in a surprise adventure. The lead players in this intimate film have been working with both directors since their debut days. Catalina Saveedra, who plays Hugo, appeared in the starring role in their previous film The Maid, a triumph which The New York Times included in their top five film performances for 2009. On this occasion the directors came up with a tailor-made part for Chilean screen legend, 90-year-old Bélgica Castro (Isadora), who has been married for forty years to actor and playwright Alejandro Sieveking (Enrique), featured in films by Costa-Gavras.
About the director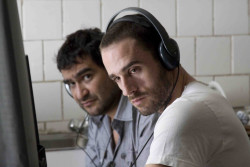 Sebastián Silva (b. 1979, Santiago) divides his time between film, painting, illustrations and music. He organises exhibitions and started up the music band CHC. After releasing his own album he made his feature debut Life Is Killing Me (2007), which garnered a series of awards. His next film The Maid (2009), screened in the section Another View at KVIFF in 2009, won the World Cinema category at Sundance and was nominated for a Golden Globe. Pedro Peirano, screenwriter, director, actor, journalist and caricaturist, co-wrote the scripts for Silva's films Life Is Killing Me and The Maid. In 2003 he created one of Chile's most successful children's series "31 Minutes" (feature-film version in 2008), which was nominated for an Emmy and became a cult series in Mexico and South America.
About the film
Color, 35 mm
European premiere
| | |
| --- | --- |
| Section: | Another View |
| | |
| Director: | Sebastián Silva, Pedro Peirano |
| Screenplay: | Sebastián Silva, Pedro Peirano |
| Dir. of Photography: | Sergio Armstrong |
| Music: | Juan Andrés Silva |
| Editor: | Gabriel Díaz |
| Producer: | Kim Jose, David Robinson, Sebastián Silva |
| Production: | Elephant Eye Films |
| Cast: | Bélgica Castro, Claudia Celedón, Alejandro Sieveking, Catalina Saveedra |
| Contact: | Elephant Eye Films |