Archive of films

Behold the Lamb / Behold the Lamb
In John McIlduff's darkly comic directorial debut, depressed 50-something Eddie and former drug addict Liz head out across Northern Ireland to make a pickup which will save the life of Eddie's son. The pickup is in the form of a lamb – a representation of deliverance in more than one sense....
Synopsis
A darkly comic road movie across Northern Ireland toward redemption in the form of a lamb with very unchristian-like innards. Two outsiders are on their way to make a pickup, i.e. the lamb: Liz, whose boyfriend Joe is a junkie, and Joe's father Eddie, a corpulent 50-year-old with depression. Their alliance is purely expedient. Liz is going to visit her son, who is growing up in a foster home. And Eddie, willing to save Joe's neck at any price, persuades her to be his driver. On the way, this odd couple undergo a series of bizarre, comic, and tragic situations, culminating in Eddie's abysmal attempt to play the drug dealer. Eddie's desire to atone for his parental failings is linked to Liz's painful past and feelings of guilt. And it is this connection which elevates their journey into a quiet process of healing that manages to avoid a sentimental happy ending.... This laconic picture, combining Christian symbolism with bitter irony and pervasive misery, is John McIlduff's feature debut.
About the director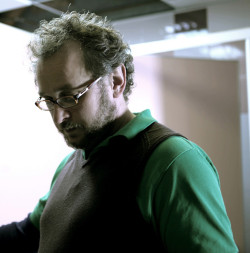 John McIlduff was born in Belfast and studied English literature there at Queens University. At school he caught the theater bug, and after graduation he left for Paris to study with Jacques Lecoq. After returning he helped found the Shibboleth Theatre Company. His further career is primarily connected with theater, both plays and opera, including cooperation with composer Brian Irvine for their production company Dumbworld (e.g. Postcards from Dumbworld). In addition to theater, McIlduff shoots commercials and writes for television. Since 1998 he has also been directing short films: Arditia (1998), Le Poirier (1999), and In Safe Hands (2003); and codirecting short films with Brian Irvine: The Mysterious Art of Dancing (2004), À l'arrière (2005), and To Do List (2010). The darkly comic road movie Behold the Lamb is his feature debut.
About the film
Color, HD CAM
International premiere
| | |
| --- | --- |
| Section: | Another View |
| | |
| Director: | John McIlduff |
| Screenplay: | John McIlduff |
| Dir. of Photography: | Steeven Pettiteville |
| Music: | Brian Irvine |
| Editor: | Nick Emerson |
| Producer: | Kevin Jackson |
| Production: | Dumbworld |
| Cast: | Aoife Duffin, Nigel O'Neill |
| Contact: | Dumbworld |
Guests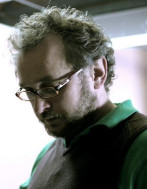 John McIlduff
Film Director, Film Director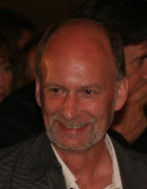 Kevin Jackson
Film Crew