Archive of films

Enemy at the Dead End / Jugigo ci-peun
Min-ho spends his life looking for his wife's murderer. When, through a bizarre coincidence, they end up in the same hospital room, he can't wait to exact brutal revenge. But it won't be easy considering the fact that they are both bound to their hospital beds and find it hard to move. And absurd life-and-death struggle is about to begin....
Synopsis
Is it possible to create a viable thriller with only two main characters who spend most of the time in one room and are barely capable of moving? Starting from this absurd premise, the director created an inspired and superbly suspenseful movie, an original genre experiment whose plentiful black humor brings a touch of objectivity to the undertaking. A paralyzed man lies in a hospital bed and would just as soon die. But after a new patient is assigned to his room, the hero quickly recovers his zest for life and his desire to rehabilitate himself because he realizes that the other man, similarly paralyzed and suffering from amnesia, is the one who murdered his wife. In addition to numerous twists that gradually reveal the adversaries' common past, the film keeps the audience in suspense via the bedridden hero's ingenious plans to kill his opponent using hospital equipment. Enemy at the Dead End presents one of the most original genre debuts to come out of the South Korean film industry last year.
About the director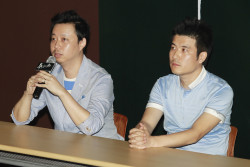 Owen Cho, Kim Sang-hwa (South Korea) are debuting filmmakers, products of the current conditions governing the South Korean film industry. Since the industry crisis, big production companies have been more prudent with their budgets, resulting in a boom for the sector producing mid-range projects, and it has thus become an incubator of new talent. Like numerous other directors, Owen and Kim can expect to be given the chance to shoot a bigger budget movie if their first is a success. The creative duo embody an ideal balance of differing approaches in the film: Owen highlights the motif of memories and their connection with a person's soul, while Kim emphasizes the genre mix as a catalyst for conveying the essence of a person's character when it is given free rein in a confined hospital environment.
Contacts
Finecut Co., Ltd
Patio House #102 (Bldg. C), 22-14 Bongeunsa-ro 26-gil, Gangnam-gu, 135-907, Seoul
Korea (Republic of)
Tel: +82 256 987 77
Fax: +82 256 994 66
E-mail: [email protected]
www: www.finecut.co.kr

About the film
Color, DIGIBETA

| | |
| --- | --- |
| Section: | Another View |
| | |
| Director: | Owen Cho, Kim Sang-hwa |
| Screenplay: | Owen Cho, Kim Sang-hwa |
| Dir. of Photography: | Choi Chan-min |
| Music: | Ahn Hye-suk |
| Editor: | Nam Na-young |
| Producer: | Kim Jang-wook, Nam Kwon-woo |
| Production: | Funch Ball |
| Cast: | Chun Ho-jin, Yoo Hae-jin |
| Contact: | Finecut Co., Ltd |