Archive of films

Kid with a Bike / Le gamin au vélo
Belgium / France / Italy
2011, 87 min

Section: Horizons
Year: 2011
Twelve-year-old Cyril was separated from his father and can't understand that there's essentially no going back. Hope arrives in the form of a bicycle and events around him start to gain momentum. Will the boy be able to work out who really cares about him? The film by two-time recipients of the Palme d'Or won the Grand Prix ex aequo at this year's Cannes IFF.
Synopsis
Cyril will soon be 12 years old, an age when he'll start consciously reforming his view of what is still a child's world. When his father dumps him in a children's home, he can't come to terms with the situation, and channels his intelligence and particularly his unflagging energy into attempts to turn back the clock. Only later on does he realise the futility of his actions, and that as a result he may have injured the very person who showed a true interest in him. Wisdom isn't acquired from one day to the next, but an initial awareness that one can't just blindly follow one's desires may play a decisive role. As in their other films, here the Dardenne brothers also demonstrate their ability to paint an extremely realistic picture which, on this occasion, they enhance with sporadic musical interludes. They examine causes and effects in their heroes' world, yet they don't feel the compulsion to bring everything to a climax. The result is a sensitive, absorbing but in no way overly-emotional drama involving exceptionally true-to-life characters.
About the director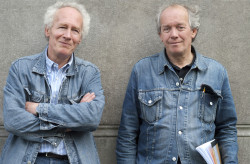 Jean-Pierre Dardenne (b. 1951, Engis, Belgium) is also an actor by profession; his brother Luc Dardenne (b. 1954, Awirs, Belgium) studied philosophy. Together they are among only a small group of filmmakers who have won the Cannes IFF more than once – first with the film Rosetta (1999) and then with The Child (L'enfant, 2005). They have returned regularly to compete at Cannes with other films: beginning with The Promise (La promesse, 1996), then The Son (Le fils, 2002), and most recently with this year's film The Kid with a Bike, which earned them the Grand Prix ex aequo. Their films are repeatedly screened to Karlovy Vary audiences; The Child and Lorna's Silence (Le silence de Lorna, 2008, Best Screenplay at Cannes) were sent into Czech distribution.
About the film
Color, 35 mm

| | |
| --- | --- |
| Section: | Horizons |
| | |
| Director: | Jean-Pierre Dardenne, Luc Dardenne |
| Screenplay: | Jean-Pierre Dardenne, Luc Dardenne |
| Dir. of Photography: | Alain Marcoen |
| Music: | music cue sheet |
| Editor: | Marie-Hélène Dozo |
| Producer: | Jean-Pierre Dardenne, Luc Dardenne |
| Production: | Les Films du Fleuve |
| Cast: | Cécile de France, Thomas Doret, Jérémie Renier |
| Contact: | Wild Bunch |