Well-known and (for many) controversial French filmmaker Bruno Dumont has shot another of his metaphysical/spiritual films which are hard to interpret. To a certain extent, Outside Satan, screened in Un Certain Regard at this year's Cannes festival, ties in with his debut The Life of Jesus (La vie de Jésus, 1997) through its location in the inhospitable rural environment of northern France and through vague references to its parallel with the highly enigmatic Christ figure.
Synopsis
On the Opal Coast on the French side of the English Channel by a small village near the mouth of a river, a strange, tall man wanders. He sleeps outside, is often seen somewhere in the countryside kneeling to pray. He befriends a young woman from the village who brings him food. They walk together over the surrounding dunes covered with grass and shrubbery, along the marshes where the devil dwells, sometimes stopping to exchange a few seemingly insignificant sentences. They are clearly attached to one another without limiting either's freedom, without there being any other bond between them. The man is so concerned about his companion that he commits a crime for her, but he is never accused of it. He evidently has healing powers, which come to light when another village woman calls him to help her daughter, who suffers from an unspecified illness. Although the unnamed man never seeks physical consolation from his unnamed companion, he is certainly not asexual. And finally we witness a miracle.
About the director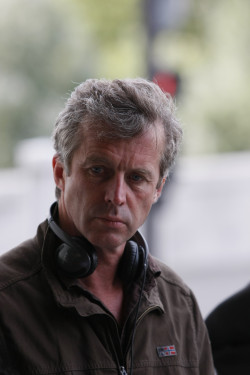 Bruno Dumont (b. 1958, Bailleul, France) has directed just four films but is nonetheless regarded as a provocative and original filmmaker. His feature debut The Life of Jesus (La vie de Jésus, 1997) won a whole series of awards, including the Caméra d'Or – Mention Spéciale at Cannes, the FIPRESCI Prize at the Chicago IFF, a Felix for European Discovery of the Year, and the Prix Jean Vigo. His subsequent films include Humanity (L'humanité, 1999 – Grand Prix at Cannes, presented in the Horizons section at KVIFF 2000), Twentynine Palms (2003), Flanders (2006 – screened in Horizons at KVIFF 2006), Hadewijch (2009). Outside Satan (2011) was screened in the Un Certain Regard  section at Cannes this year.
About the film
Color, 35 mm

| | |
| --- | --- |
| Section: | Another View |
| | |
| Director: | Bruno Dumont |
| Screenplay: | Bruno Dumont |
| Dir. of Photography: | Yves Cape |
| Editor: | Bruno Dumont, Basile Belkhiri |
| Producer: | Jean Brehat, Rachid Bouchareb, Muriel Merlin |
| Production: | 3B Productions |
| Cast: | David Dewaele, Alexandra Lematre, Valerie Mestdagh, Sonia Barthelemy, Juliette Bacquet, Christophe Bon, Dominique Caffier, Aurore Broutin |
| Contact: | Pyramide International |