Czechoslovakia
1962, 90 min

Section: Out of the Past
Year: 2012
First love isn't always about romance: two young people in the middle of a big city endeavour to find themselves and their place in the world, experiencing a measure of anguish along the way. In adopting an entirely new kind of sensitivity in his film, Štefan Uher paved the way for the up-and-coming generation of filmmakers. The film was digitally restored to mark its 50th anniversary.
Synopsis
This film is always described as a work which essentially incorporates everything that was fundamental for the Czechoslovak New Wave: prosaic characters and plots, hidden drama, and the evocation of authentic atmosphere. The Sun in a Net also anticipated the strong interest in young heroes, yet perhaps only Forman was able to capture them with the same kind of immediacy achieved by Štefan Uher. Uher wasn't seeking ways to make them exceptional; a silent observer, he simply entered an ordinary apartment block in contemporary Bratislava and chose two adolescents from among its occupants. He refrained from making judgements, instead quietly prompting his viewers to catch the allusions necessary to appreciate the complexity of his characters' situation and the tests they must face before they can finally get together. Bela is at last learning to understand her disabled mother, while Fajolo seeks solitude on the roof of the building, where he meditates about himself, about life, and about Bela. The film was digitally restored to mark 50 years since it was made.
About the director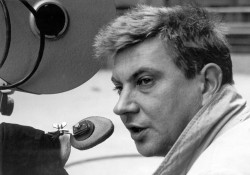 Štefan Uher (1930, Prievidza-1993, Bratislava) was a member of the first FAMU generation, graduating in 1955. He then began a career in documentary filmmaking, the influence of which is evident in his feature films. His other creative strand – a striking, poetic take on reality and an interest in lyrical motifs – prevailed in several films (Miraculous Virgin, 1966, Maple and Juliana, 1972), nevertheless, he generally struck a healthy balance between the two. This applies to his second feature The Sun in a Net (1962), considered the forerunner of the Czechoslovak New Wave movement. After the sombre drama Three Daughters (1967), reflecting 1950s oppression, he was forced to compromise during the normalisation period. Before his death, however, he demonstrated that he was a highly astute observer of intricate human lives, as seen in Concrete Pastures (1982) and Curator of the Outdoor Museum (1988).
Contacts
Slovenský filmový ústav / Slovak Film Institute
Grösslingová 32, 811 09, Bratislava
Slovakia
Tel: +421 257 101 503
Fax: +421 252 963 461
E-mail: [email protected]
www: www.sfu.sk, www.aic.sk

About the film
Black & white, DCP

| | |
| --- | --- |
| Section: | Out of the Past |
| | |
| Director: | Štefan Uher |
| Screenplay: | Alfonz Bednár |
| Dir. of Photography: | Stanislav Szomolányi |
| Music: | Ilja Zeljenka |
| Editor: | Bedřich Voděrka |
| Production: | Filmová tvorba a distribúcia Bratislava, Štúdio hraných filmov Bratislava - Koliba |
| Cast: | Marián Bielik, Jana Beláková, Oľga Šalagová, Eliška Nosáľová, Pavol Chrobák, Andrej Vandlík, Ľubo Roman |
| Contact: | Slovenský filmový ústav / Slovak Film Institute |
Guests
Alexandra Strelková
Film Institution Rep., Cinema Representative, PR & Marketing
Stanislav Szomolanyi
Director of Photography