Archive of films

Angels' Share / The Angels' Share
United Kingdom / France / Belgium / Italy
2012, 101 min

Section: Horizons
Year: 2012
With hints of fairytale and social drama, The Angels' Share ponders the wasting of talent and what can happen when we're given a chance in life. Shot with incredible lightness and humor by experienced artists Ken Loach and screenwriter Paul Laverty, the film took the Jury Prize at this year's Cannes IFF.
Synopsis
After his previous drama Route Irish (2010), which, like The Angels' Share, screened in Cannes' main competition, the director and his screenwriter Paul Laverty felt like shooting something a little different. Robbie, Albert, Rhino, and Mo meet up in Glasgow while doing the community service they were sentenced to in lieu of prison. Robbie's girlfriend has just given birth to a son, and the young man promises to turn his life around – but finding work and escaping the past can be tough. Luckily, supervisor Harry initiates him into the mysteries of whiskey tasting. At a whiskey show, when Robbie finds out that a nearby distillery is going to auction off a cask of very old, very valuable whiskey, he is struck with a plan to improve his financial situation. With hints of fairy tale and social drama, the movie ponders the wasting of talent and what can happen when we're given a chance in life. This time around the director, who shot the film with incredible lightness and humor, lets viewers take a breather, supplying them with much needed hope and invigoration.
About the director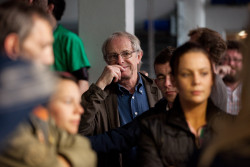 Ken Loach (b. 1936, Nuneaton, UK) studied law, had a short stint in the theater, and was hired by the BBC in 1963 as an assistant director. He grabbed the limelight with the TV play Cathy Come Home (1966) and with his first two features, Poor Cow (1967) and Kes (winner of the Crystal Globe at the 1970 KVIFF). Loach spent the next two decades working in TV and making commercially unsuccessful pictures. The turning point came with Riff-Raff (1990), followed by award-winning titles, including Hidden Agenda (1990), Raining Stones (1993), Land and Freedom (1995), My Name Is Joe (1998), Sweet Sixteen (2002), Ae Fond Kiss (2004), The Wind That Shakes the Barley (2006), It's a Free World (2007), Looking for Eric (2009), Route Irish (2010), and The Angels' Share. Loach's films have snatched up multiple prizes at various IFF (Cannes, Venice, Berlin) and at Britain's BAFTA Awards.
About the film
Color, DCP

| | |
| --- | --- |
| Section: | Horizons |
| | |
| Director: | Ken Loach |
| Screenplay: | Paul Laverty |
| Dir. of Photography: | Robbie Ryan |
| Music: | George Fenton |
| Editor: | Jonathan Morris |
| Producer: | Rebecca O'Brien |
| Production: | Sixteen Films |
| Cast: | Paul Brannigan, Siobhan Reilly, John Henshaw, Gary Maitland |
| Contact: | Wild Bunch, Aerofilms |
| Distributor: | Aerofilms |
Guests
Ivo Andrle
Distributor
Zuzana Pudilová
Distributor