Archive of films

Before Tonight Is Over / Kým sa skončí táto noc
Czechoslovakia
1965, 91 min

Section: Out of the Past
Year: 2013
Night after night, a trendy nightclub located in a Slovak mountain resort provides the setting for casual acquaintances among an assortment of patrons. In a place where they ought to be relaxing and having a good time, fragments of conversations are overheard which allude to their various traumas, failures, self-delusions, elusive dreams, and naive fantasies.
Synopsis
As the film's title suggests, the plot unfolds over the space of a few hours, and the location, a trendy nightclub, is just the right environment for this time of night. Peter Solan observes the social interaction of a handful of characters and, like the waitress moving about behind the bar, he switches from one patron to another, attempting to find out about their lives from snatches of their conversations. This might seem like an agreeable place to unwind, but the free-handed drunk at the bar, in a gesture of despair, fritters away his colleagues' wages; two office secretaries have come to the mountains in order to escape their tedious stereotypical lives, women caught in a rut despite their youth; and the two young guys attempting to chat them up are almost touching in their insecurity and clumsiness. Other tables are also occupied by an assortment of miserable-looking individuals.... The film is a prime example of the poetic charm of the 1960s New Wave, with its evocation of authentic atmosphere (here lightly melancholic and existentially dense), its gentle allusion instead of dramatic escalation, and its open ending.
About the director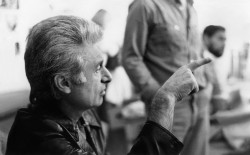 Peter Solan (b. 1929, Banská Bystrica, Czechoslovakia) studied direction as a first-generation FAMU graduate (1955). He began as a documentarist and in 1959 debuted in features with the first Slovak detective story The Man Who Never Returned. He gained international recognition with the concentration camp drama The Boxer and Death (1962), subsequently joining the ranks of 1960s New Wave filmmakers. This influence is most tangible in Before Tonight Is Over (1965) and in the triptych Dialogues 20-40-60 (1968). His regular co-writers included dramatist Peter Karvaš (The Barnabáš Kos Case, 1964; The Master Didn't Ask for Anything, 1970) and screenwriter Tibor Vichta (Face in the Window, 1963; Before Tonight Is Over, 1965). During the normalisation era Solan had to transfer to Short Film Studios. He was allowed to return to feature and TV work in the 1980s.
Contacts
Slovenský filmový ústav / Slovak Film Institute
Grösslingová 32, 811 09, Bratislava
Slovakia
Tel: +421 257 101 503
Fax: +421 252 963 461
E-mail: [email protected]
www: www.sfu.sk, www.aic.sk

About the film
Black & white, DCP

| | |
| --- | --- |
| Section: | Out of the Past |
| | |
| Director: | Peter Solan |
| Screenplay: | Tibor Vichta, Peter Solan |
| Dir. of Photography: | Vincent Rosinec |
| Music: | Jaroslav Laifer, Miloš Jurkovič |
| Editor: | Maximilián Remeň |
| Production: | Československý film Bratislava, Štúdio hraných filmov Bratislava - Koliba |
| Cast: | Jana Gýrová, Jitka Zelenohorská, Stano Dančiak, Marián Labuda, Július Pántik |
| Contact: | Slovenský filmový ústav / Slovak Film Institute |
Guests
Alexandra Strelková
Cinema Representative, Film Institution Rep., PR & Marketing
Dagmar Ditrichová
Other