Bosnia and Herzegovina / France / Turkey
2002, 108 min

Section: East of the West - Competition
Year: 2003
The Second World War took journalist Ahmed Karaga by surprise, but he survived a concentration camp. Half a century later, his son Tarik goes through the same tragic war experiences. Everything repeats itself, although Sarajevo is a different place as is the pretext for the tragedy. 
Synopsis
Tarik is a young Sarajevan just starting out as a writer. Before the onset of war in the former Yugoslavia, he sent a screenplay to a literary competition in France. It dramatized the true story of Ahmed Karaga, his father, who was unprepared for the outbreak of the Second World War. Ahmed ended up in a concentration camp but managed to survive. Some fifty years later, the father's drama is almost identically replayed in the fate of the son. Only the era and the conditions of suffering have changed. In Sarajevo, Tarik is captured by the Serbian army and is subjected to the cruel conditions of a labour camp differing little from a concentration camp. After an unsuccessful attempt to escape, a French producer helps exchange him for another prisoner and ensures transportation to Paris. There, where few know of the great tragedy that has struck Bosnia, Tarik meets one of his tormentors. He, too, has been saved from the bloody civil war, but there's not enough room for both of them in the city on the Seine.... Zlatko Topčić's script is based on incidents which occurred in his own life.
About the director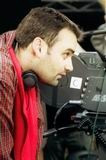 Dino Mustafić (b. 1969, Sarajevo) graduated from Sarajevo's Academy of Dramatic Arts and Philosophical Faculty, and now teaches at both: direction and history of world drama respectively. As a director working mainly in television, he has tried his hand at various genres (e.g. documentaries, news broadcasts, commericals, music and educational programmes). Among his best works are the documentaries The Way of Life (Pista života, 1993), Let There Be Light (Neka bude svjetlost , 1993), Miracle in Bosnia (Čudo u Bosni, 1995) and the short film 724 (1998). His work in theatre also deserves mention, including classic plays (e.g. Molière and Shakespeare) and modern (e.g. Jean-Paul Sartre, Slawomir Mrozek, Eugène Ionesco, Thornton Wilder), as well as the opera Cavaleria Rusticana and the operetta Evropa at Sarajevo's National Theatre. 
Contacts
Forum Sarajevo
Mis Irbina 2, 71000, Sarajevo
Bosnia and Herzegovina
Tel: +387 336 684 63
Fax: +387 334 436 16
E-mail: [email protected]

Terra Entertainment Inc.
, 10023, New York
United States of America
Tel: +1 212 664 9286
Fax: +1 212 898 1260

About the film
Color, 35 mm

| | |
| --- | --- |
| Section: | East of the West - Competition |
| | |
| Director: | Dino Mustafić |
| Screenplay: | Zlatko Topčić |
| Dir. of Photography: | Mustafa Mustafić |
| Music: | Adi Lukovać |
| Editor: | Andrija Zafranović |
| Producer: | Enes Cviko |
| Production: | Forum Sarajevo |
| Cast: | Ermin Bravo, Aleksandar Seksan, Ermin Sijamija, Dejan Aćimović, Lucija Šerbedžija, Slaven Knezović, Helena Minić, Jasna Diklić, Zijah Sokolović, Miralem Zubčević, Zijah Sokolović |
| Contact: | Forum Sarajevo, Terra Entertainment Inc. |
| | |
| www: | www.remake.co.ba |
Guests
Dino Mustafić
Ermin Bravo
Actor