Lithuania
2002, 78 min

Section: East of the West - Competition
Year: 2003
The desire to succeed and the search for an advantageous position under the new socio-political conditions becomes a difficult life trial for the heroine. In exchange for her one-time illusions, however, she acquires something much more precious – self-knowledge. In other words – whoever and wherever we are, our only wealth is free choice.
Synopsis
Lithuanian society underwent a difficult period in the final decade of the 20th century. A certain disillusionment settled in after the general euphoria accompanying the proclamation of independence. Many came to realize that they were not able to adjust to new conditions. The ground beneath their feet became unstable, the security they had once known vanished for good, and the joy concomitant with their new found freedoms was replaced by fears of what to do with it. The director set his story in a rather rundown and gloomy town, in houses with peeling facades and uninviting entrance halls, in sadly darkened interiors. This is the story of a woman who tried to overcome the stereotype of fleeting days, a middle-aged woman who found the courage to forge a life according to an ideal. She is determined to fulfil both human and purely female dreams. But as usually happens, dreams are mercilessly confronted with reality. Tormenting fear stemming from her own inadequacy replaces visions of hope. Yet loss teaches lessons in self-realization, and this assures the heroine that time spent in searching, though it ends in failure, was is in vain. In other words – whoever and wherever we are, our only wealth is free choice.
About the director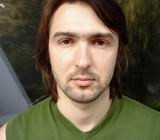 Kristijonas Vildžiunas (b. 1970, Vilnius) debuted in features with The Lease. After graduating from the film academy in Vilnius, he shot three medium-length movies. The hero of his graduation film, The Days are Left (Likusios dienos, 1995), is a man living alone in a wheelchair who is tormented by images of a thief threatening his life. Vildžiunas followed it up with Library (Biblioteka, 1997), a desperate vision of people wandering though the bleak entrails of a huge library built under Stalin. His third film was the documentary 9 Gates City (9 vartu diestas, 2000) set in a tough penitentiary. The film confirmed the director's on-going interest in people placed in pivotal situations, and expressed his conviction that the human spirit is always bound and deformed by circumstances. 9 Gates City was awarded at the 2000 Neubrandenburg documentary festival. 
Contacts
Studio Uljana Kim
Antakalnio 94-25, LT10202, Vilnius
Lithuania
Tel: +370 69953109
Fax: +370 5234 7060
E-mail: [email protected]

About the film
Color, 35 mm

| | |
| --- | --- |
| Section: | East of the West - Competition |
| | |
| Director: | Kristijonas Vildzhiunas |
| Screenplay: | Kristijonas Vildžiunas |
| Dir. of Photography: | Vladas Naudžius |
| Editor: | Kristijonas Vildžiunas, Onute Diržyte |
| Producer: | Uljana Kim |
| Production: | Studio Uljana Kim, koprodukce / coproduction: Studio Kinema |
| Cast: | Larisa Kalpokaite, Tomas Tamošaitis, Dalia Michelevičiute |
| Contact: | Studio Uljana Kim |
| | |
| www: | www.nuomossutartis.lt |
Guests
Gražina Arlickaité
Festival Organizer
Kristijonas Vildzhiunas