Sweden / Denmark
2003, 82 min

Section: Documentary Films - Competition
Year: 2003
Famous Swedish photographer Georg Oddner through the eyes of famous Swedish filmmaker Jan Troell. A portrait of a fascinating personality with the soul of a jazz musician, a testimony to a lifelong search for the poetic side of reality through the camera lens.
Synopsis
Photographer Georg Oddner and filmmaker Jan Troell not only have in common a passion for images, but also a long friendship. Out of this, Troell, the well-known Swedish director of The Emigrants and Hamsun, put together a documentary portrait revealing intimate knowledge of Oddner's workand offering insight into his character. Via memories and photographs, they return to Oddner's childhood, spent both in Sweden and his mother´s native. The film then follows young jazz drummer Oddner to New York where he began his career as a fashion photographer, getting his first experiences in the studio of the legendary Richard Avedon. Oddner perceived  rhythm as a bridge between jazz and photography, a source of vitality for both melody and image. Troell presents a life filled with fascination for human faces and the desire to portray a specific language through which objects speak, and to capture that moment which simultaneously radiates signs of life and eternity. This is a portrait of a fascinating and popular Swedish photographer with the soul of a musician, a man who is both an incredible storyteller and an attentive and perceptive listener and observer.
About the director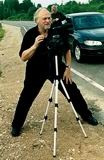 Jan Troell (b. 1931, Sweden) first worked as an elementary school teacher, then focused on amateur film at the beginning of the sixties. In 1962 he worked with Bo Widerberg as a cameraman and later as co-editor, then shot his feature debut Here´s Your life. The film The Emigrants (1971) brought acclaim from viewers and critics alike, including three Oscar nominations. He loosely followed it up with The New Land (1972), both based on the Vilhelm Moberg saga The Emigrants. Of two films shot in the United States, Zandy's Bride (1974) was the more successful. And of course Troell's films awarded at the Berlinale are also worth mentioning: Il Capitano (Best Director) and Who Saw Him Die? (Ole dole doff  - Best Film -  Golden Bear). Selected filmography: Here's Your Life (Här har du ditt liv, 1966), Hurricane (1979), Il Capitano (1991), Hamsun (1996).
Contacts
Swedish Film Institute
Box 27126, S-102 52, Stockholm
Sweden
Tel: +46 866 511 00
Fax: +46 866 118 20
E-mail: [email protected]
www: www.sfi.se

Athena Film
Hjortstigen 3, S - 18143, Lidingö
Sweden
Tel: +46 8 765 0710
Fax: +46 8 765 8137
E-mail: [email protected]

About the film
Color, 35 mm
International premiere
| | |
| --- | --- |
| Section: | Documentary Films - Competition |
| | |
| Director: | Jan Troell |
| Dir. of Photography: | Jan Troell |
| Editor: | Jan Troell, Olle Tannergard, Ulrika Rang |
| Producer: | Göran Gunér |
| Production: | Athena Films, koprodukce / co-production: Swedish Film Institute, Danish Film Institute |
| Cast: | Georg Oddner |
| Contact: | Swedish Film Institute, Athena Film |
| | |
| www: | www.triangelfilm.se |
Guests
Göran Gunér
Producer
Gunnar Almér
Film Institution Rep.
Georg Oddner
Jan Troell
Film Director