Estonia
1968, 87 min

Section: Focus on Baltic Film (Lithuania, Latvia, Estonia)
Year: 2003
A romantic story set in the 16th century about the valiant Prince Gabriel – the Estonian Robin Hood – and lovely Agnes, whom her aunt, an influential abbess, is trying to marry off to the son of an old friend, the aging knight Rysbyter. Fate and chance, however, foil their plans in favour of the young couple. 
Synopsis
The most popular Soviet film of 1971 is drawn from Eduard Bornhöhe's historical novella Prince Gabriel or The Last Days of the Pirita Nunnery (1893). The romantic story is set in the 16th century and the protagonists are the freethinking and valiant Prince Gabriel – the Estonian Robin Hood – and young Agnes, the niece of a respected and influential abbess. The latter is trying to marry charming Agnes off to the son of an old friend, an aging knight named Rysbyter. But chance disrupts the conniving old folks' plans – deep in the forest a fateful encounter takes place between Agnes and Prince Gabriel....
About the director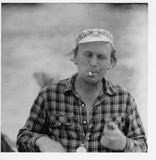 Grigori Kromanov (1926-1984), renowned Estonian artist, graduated from Moscow's GITIS drama school (1953), then worked in Tallinn as a theatre and television director. He began working at Tallinfilm studios in the sixties, and during the sixties and seventies became one of Estonia's top personalities. His work in film includes: The Last Relic (Viimne reliikvia, 1968), Brilliants for the Dictatorship of the Proletariat (Briljandid proletariaadi diktatuurile, 1976), and the sci-fi attraction The Dead Mountaineer Hotel (Hukkunud alpinisti hotell, 1979). After 1981 he directed for Tallinn's Russian Dramatic Theatre.
About the film
Color, 35 mm

| | |
| --- | --- |
| Section: | Focus on Baltic Film (Lithuania, Latvia, Estonia) |
| | |
| Director: | Grigori Kromanov |
| Screenplay: | Arvo Valton podle románu Eduarda Bornhöhe "The Last Relic" / based on a novel "The Last Relic" by Eduard Bornhöhe |
| Dir. of Photography: | S. Rahomägi |
| Music: | Uno and Tonu Naissoo |
| Editor: | V. Laev |
| Producer: | Raimond Feldt |
| Production: | Tallinnfilm |
| Cast: | Ingrid Andrina, Aleksandr Goloborodko, Rolan Bokov |
| Contact: | Estonian Film Institute |
Guests
Karlo Funk
Institution