Hungary
2002, 102 min

Section: East of the West - Competition
Year: 2003
A popular form of mass social entertainment came to Hungary in the form of a folk dance movement. The protagonists of the film – down-and-outers one and all – find refuge and the fellowship they lack in a Budapest dancehall. 
Synopsis
At the beginning of the 1970s the "Tanzhaus" movement started gaining momentum in Hungary, originating among Transylvanian Hungarians. Across the entire country, in both towns and villages, dancehalls began popping up where young people engaged in traditional folk (mainly round) dances to the music of various ethnicities. Today it is still a very popular form of mass entertainment. The protagonists of the film, down-and-outers, vagabonds one and all, find themselves in this specific subculture. Karesz, a kid raised in a children's home who now hangs out with a gang of young hoods, Karesz, accidentally wanders into one of the dancehalls. He finds a community there offering him the emotional base a boy from the streets is always lacking. A much older Moldavian, working in Hungary illegally and unable to get used to life in the big city, takes comfort in being able to join the band and play songs from his own village.... This feature is edited with authentic footage of traditional Hungarian, Yugoslavian and Romany dance and music.
About the director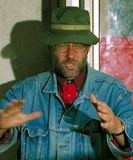 György Szomjas (b. 1940) graduated from the Budapest Academy of Drama and Film in 1968. After some irony-laced documentaries at the beginning of the 1970s, he came out with his first feature The Wind´s Whistling under Their Feet (Talpuk alatt fütyül a szél, 1976). Since 1973 he has been organizer and head of the Amateur Film Studio. In 1995 he took the post of general secretary of the Hungarian Union of Film and Television Artists, and has been a member of the European Film Academy since 1999. In recent years he has focused on making portraits and documentaries centring on folk music. Selected filmography: Wrong-Doers (Rosszemberek, 1978), Bald-Dog-Rock (Kopaszkutya, 1981), Light Physical Injuries (Könnyű testi sértés, 1983), The Wall Driller (Falfúró, 1985), Mr. Universe (1987), Fast and Loose (Könnyű vér, 1989), Junk Movie (Roncsfilm, 1992), Kisses and Scratches (Csókkal és körömmel, 1994), Gangsterfilm (Gengszterfilm, 1998). 
Contacts
Hungarian National Film Fund
Róna utca 174., 1145, Budapest
Hungary
Tel: +36 146 113 01, +36 146 113 20
www: www.filmunio.hu, www.filmfund.hu

Mokép Co. / Hungarofilm Division
Bajcsy-Zsilinszky út 7., H-1065, Budapest
Hungary
Tel: +36 1 267 3026
Fax: +36 1 267 3140
E-mail: [email protected]
www: www.mokep.hu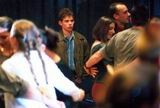 + 1
About the film
Color, 35 mm

| | |
| --- | --- |
| Section: | East of the West - Competition |
| | |
| Director: | György Szomjas |
| Screenplay: | György Szomjas |
| Dir. of Photography: | Ferenc Grunwalsky |
| Music: | Ferenc Kiss |
| Editor: | Anna Kornis |
| Producer: | Katalin Rosta |
| Production: | RF Produkció |
| Cast: | Péter Simon, Kata Horváti, Gráci Benke, Róbert Kerényi, Judit Ábrahám, Csaba Simon, Enikö Kocsis |
| Contact: | Hungarian National Film Fund, Mokép Co. / Hungarofilm Division |
| | |
| www: | www.biomusic.m/vagabond |
Guests
Annamária Basa
Kinga Gajdos
Film Institution Rep.