France
1991, 168 min

Section: Homage to Maurice Pialat and Daniel Toscan du Plantier
Year: 2003
A highly original record of the last few days of Vincent van Gogh spent in the town of Auvers-sur-Oise; a story of the solitary artist´s loves and struggles with the landscape, people and his own mental illness. Jacques Dutronc won a César for Best Actor and the film was nominated in another 11 categories.
Synopsis
At the end of spring 1890, Vincent van Gogh travelled to Auvers-sur-Oise, not far from Paris, seeking asylum from Dr Gachet, a known friend to artists. Despite the rather uncouth painter's lack of appreciation for some of the gems in the doctor's collection, he draws closer to Gachet and his daughter Marguerite who, with her youth and beauty, spontaneously and inevitably imitates Renoir's style. The strange and lofty loner himself draws inspiration from the sun-drenched countryside and is keen to portray the educated doctor and his sensitive daughter as the most destitute and ignorant of rustics. Although he quickly becomes established in the usually quiet town, his rapidly deteriorating mental condition complicates his inflexible existence and the lives of those around him. The situation is exacerbated by the arrival of Theo, van Gogh's younger brother, who recently married. Theo has selflessly supported his unschooled sibling his whole life. His wife Johanna and an insignificant Parisian prostitute become two more fateful women in the life of a painter who covers a new canvas daily in the dark reflections of his tortured soul. Van Gogh heads inexorably toward the suicidal tragedy that ended his days. He left behind not only artistic works but also people who recognized – before art historians – his human legacy. Jacques Dutronc won a César for his performance, and the film was nominated in 11 other categories. It was also screened in competition at Cannes 1991.
About the director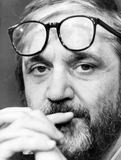 Maurice Pialat (1925 – 2003) Filmografie - režisér / Filmography - director: L´enfance nue / Nahé dětství / Naked Childhood, 1968
La maison des bois / Srub / The House in the Woods,  TV, 1970
Nous ne vieillirons pas ensemble / Nezestárneme spolu / Break-Up, 1972
La gueule ouverte / Otevřená huba /The Mouth Agape, 1973
Passe ton bac d´abord / Nejdřív udělej maturitu / Graduate First, 1979
Loulou / Loulou / Loulou, 1980
A nos amours / Našim láskám / To Our Loves, 1983
Police / Policie / Police, 1985
Sous le soleil de Satan / Pod sluncem satanovým /Under Satan´s Sun, 1987
Van Gogh / Van Gogh / Van Gogh, 1991
Le garçu / Klučina / Le garçu, 1995 Filmografie - herec / Filmography - actor: Que la bête meure / Bestie musí zemřít / The Beast Must Die (režie / dir. Claude Chabrol, 1969)
La maison des bois / Srub / The House un the Woods (režie / dir. Maurice Pialat, TV, 1970)
Les lolos de Lola / Lolini chlapci / Lola´s Lolos (režie / dir. Bernard Dubois, 1974)
Mes petites amoureuses / Moje malé milenky / My Little Loves (režie / dir. Jean Eustache, 1975)
A nos amours / Našim láskám / To Our Loves (režie / dir. Maurice Pialat, 1983)
Sous le soleil de Satan / Pod sluncem satanovým /Under Satan´s Sun (režie / dir. Maurice Pialat, 1987)
Contacts
Institut francais de Prague
Štěpánská 35, Box 850, 111 21, Praha 1
Czech Republic
Tel: +420 221 401 011
Fax: +420 221 401 049
E-mail: [email protected]
www: www.ifp.cz

About the film
Color, 35 mm

| | |
| --- | --- |
| Section: | Homage to Maurice Pialat and Daniel Toscan du Plantier |
| | |
| Director: | Maurice Pialat |
| Screenplay: | Maurice Pialat |
| Dir. of Photography: | Emmanuel Machuel |
| Music: | Arthur Honnegger |
| Editor: | Yann Dedet, Nathalie Hubert |
| Producer: | Daniel Toscan du Plantier |
| Production: | Les films du Livradois, koprodukce/co-production:France 2 Cinéma, Studio Canal |
| Cast: | Jacques Dutronc, Alexandra London, Gérard Séty, Bernard Le Coq, Elsa Zylberstein, Corrine Bourdon, Jacques Vidal |
| Contact: | Institut francais de Prague |
Guests
Radka Ondráčková
Festival Organizer, Other, PR & Marketing, Producer