USA
2002, 102 min

Section: Horizons
Year: 2003
Laurel Canyon is the "Greenwich Village of Hollywood", full of musicians, actors and artists, it is also the home of bohemian music producer Jane who is currently producing an album by a British rock group. Jane's rather prudish and conservative son Sam, a future doctor, is forced to return to this unlikely fold… The lead role is played by Frances McDormand, known to Karlovy Vary audiences for her role in the Coen Brothers' film Fargo 
Synopsis
Laurel Canyon is the "Greenwich Village of Hollywood", full of musicians, actors and artists. The somewhat extravagant and bohemian producer Jane already knows a thing or two about the music scene and she is currently trying to push a British band into the limelight. One of the band's singers happens to be her lover as well. Then we have her rather prudish and serious son Sam, a future doctor who has no wish to be associated with the life of his free-thinking mother. Nevertheless, together with his fiancée Alex, he is forced to spend time at his mother´s home and is none too pleased at having to live with her noisy friends and her free-and-easy rock band.  This coexistence, however, turns hitherto rigorous truths and attitudes upside down… The lead role of Sam's mother Jane is played by Frances McDormand, who appeared in the Coen Brothers' film Fargo.
About the director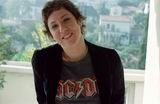 Lisa Cholodenko (San Fernando Valley) moved to New York in 1992 and studied at Columbia University (film art). She enjoyed success with her very first short film Souvenir, which was awarded at the London Film Festival in 1994. Her short film dinner party brought her Channel 4 television's TX Prize in 1997. Her feature debut High Art won the Waldo Salt Screenwriting Award at the Sundance festival in 1998, the Jury Prize at the Deauville festival and was included in the section Director´s Fortnight at Cannes in 1998. Cholodenko also filmed an episode of Familia for HBO, entitled Six Feet Under.  
Contacts
Hollywood Classic Entertainment
Psohlavců 8, 147 00, Praha 4
Czech Republic
Tel: +420 226 224 111
Fax: +420 226 224 110
E-mail: [email protected]
www: www.hce.cz

Good Machine International
?

About the film
Color, 35 mm

| | |
| --- | --- |
| Section: | Horizons |
| | |
| Director: | Lisa Cholodenko |
| Screenplay: | Lisa Cholodenko |
| Dir. of Photography: | Wally Pfister |
| Music: | Craig Wedren |
| Editor: | Amy E. Duddleston |
| Producer: | Jeffrey Levy-Hinte, Susan Stover |
| Production: | Antidote Films |
| Cast: | Frances McDormand, Christian Bale, Kate Beckinsale, Alessandro Nivola, Natascha McElhone |
| Contact: | Hollywood Classic Entertainment, Good Machine International |
Guests
Petr Plewka
Distributor