Czech Republic
2002, 85 min

Section: Czech Films 2002-2003
Year: 2003
Three friends hold a huge lads' get-together in a flat owned by the parents of one of the boys, but the party soon turns into a nightmare. This screenwriting and directing debut by Karel Spěváček is a remarkable attempt at black comedy created in the spirit of the American independent.   
Synopsis
Three friends hold a huge lads' get-together in a flat owned by the parents of one of the boys. They really make a night of it: they drink, smoke marihuana, they order take-out pizza and also the prostitute Nicole. What starts out as a great party soon turns into a nightmare when Nicole overdoses on drugs and "of all the beds she could have died in, it had to be mum's". But how can they safely get rid of the body before the parents get back and when people keep arriving at the scene – the pizza man, Nicole's pimp Iggy, the curious landlady, an anxious old grampa, the girlfriend who hasn't had a brilliant day and, finally, a hired assassin, being sought by the police both inside the country and out? As time progresses, the boys increasingly face more and more problems… The film's dialogue makes use of specific teenage slang and oscillates between a teenage comedy and a post-modern crime thriller based on quotes from a series of well known domestic and foreign films. Director Karel Spěváček also adds: "The screenplay is clearly inspired by American independent film which is still unthinkable in this country, but its role should be assumed by student film which fulfils all the requirements of the independent genre, whether this involves atypical themes or a low budget".
About the director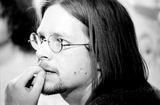 Karel Spěváček (b. 1979) studied at the Zlín Film School. He made a film about the avantgarde group Danaus with Martin Jahoda. The two filmmakers are currently working on the film Attack by Lifeless and Shiny Extra-Terrestrials from the Outer Universe of the Gama Quadrant. The low-budget black comedy The Trash is Spěváček's script-writing and directing debut, the result of his winning a screenwriting competition announced by the studios Ateliéry Bonton a. s., where the film was also made. 
Contacts
Filmové ateliéry, s.r.o.
Filmová 174, 76001, Zlín
Czech Republic
Tel: +420 577 592 200
Fax: +420 577 592 444
E-mail: [email protected]
www: www.ateliery.cz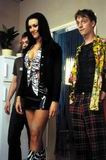 + 1
About the film
Color, 35 mm

| | |
| --- | --- |
| Section: | Czech Films 2002-2003 |
| | |
| Director: | Karel Spěváček |
| Screenplay: | Karel Spěváček |
| Dir. of Photography: | Tomáš Kresta |
| Editor: | Zdeněk Rygl |
| Producer: | Josef Nepovím |
| Production: | Ateliéry Bonton Zlín |
| Cast: | Vladimír Škultéty, Jan Plouhar, Ondřej Nosálek, Hana Holišová, Paula Wild, Bára Štěpánová, Miroslav Moravec |
| Contact: | Filmové ateliéry, s.r.o. |
Guests
Vladimír Škultéty
Actor
Jan Plouhar
Zdeněk Skaunic
Producer
Karel Spěváček