Czech Republic
2002, 98 min

Section: Czech Films 2002-2003
Year: 2003
A poetic, comic road movie based on an unusual, playful and witty narration which describes two young people in search of the eclipse and much else besides.  
Synopsis
The filmmakers characterise their comic road movie as a "remarkable trail along the paths of the mind", a playful and witty story of a young couple who set off in search of the eclipse. The film is also a poetic reflection on transportation between places and communication between people. But chiefly it presents an unusual portrait of two of the director's close friends – Prokop Holoubek and Magdalena Hrubá, and a portrayal of their environment, the town where they live and the surrounding countryside. The two encounter unexpected adventures along the way, they indulge in philosophising and, thanks to Prokop's chaotic temperament, they almost find themselves in a spot of danger… The director, who made his film under amateur conditions on 16 mm, using a Bolex mechanical camera, doesn't strive for a perfect illusion of film reality, nor does he attempt to ensure the psychological authenticity of his characters. Instead, he plays around with the space and time dimensions of the film, linking seemingly incongruous elements in order to create a kind of "musical image", where nature is given the same status as the heroes: "insignificant" movement in the background or hair being ruffled by the wind.
About the director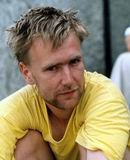 Petr Marek (b. 1974), director and screenwriter. Since the end of the 1980s he has made around 30 shorts and seven feature-length amateur films. In 1999  he graduated from the Department of Film Science, Charles University in Prague. He regularly worked on the TV series Moravian-Silesian Salon and worked as assistant cameraman on Jan Němec's film Late Night Talkes with  Mother. In association with director Vít Janeček he made the documentary essay In the Centre of Film (In the Warmth of Home) in 1997. He has been acting for the Beruška "Decadent Theatre" since 1991 and is currently working as a film repertory adviser for Prague's Roxy club; he also works with various film magazines. The poetic comedy Love from Above is his directing-scriptwriting feature-length debut.
About the film
Color, 35 mm

| | |
| --- | --- |
| Section: | Czech Films 2002-2003 |
| | |
| Director: | Petr Marek |
| Screenplay: | Petr Marek |
| Dir. of Photography: | Petr Marek, Prokop Holoubek, Zdeněk Eliáš, David Kristek, Magdalena Hrubá, Filip Cenek |
| Music: | Petr Marek, Ondřej Šárek, Magdalena Hrubá, Prokop Holoubek |
| Editor: | Petr Marek |
| Producer: | Petr Oukropec, Petr Marek |
| Production: | Negativ s.r.o., Unarfilm |
| Cast: | Prokop Holoubek, Magdalena Hrubá, Petr Marek, Bohdan Karásek |
| Contact: | Negativ, CinemArt, a.s., Unarfilm |
| | |
| www: | www.unar.tripod.com |
Guests
Petr Oukropec
Producer, Film Director
Petr Marek
Film Director