Sweden
2002, 109 min

Section: Horizons
Year: 2003
The third film by acclaimed Swedish director Lukas Moodysson, who made the successful film Show Me Love (1999), describing the destiny of young people. Without resorting to pathos, it tells the story of 16-year-old Russian girl Lilya and her friend Volodya, children left to the mercies of fate in a forsaken post-Communist housing estate.  
Synopsis
Four years ago Swedish director Lukas Moodysson established his name in Karlovy Vary with his successful debut Show Me Love, in which he described in realistic images the relationship between two adolescent girls from a small town. Lilya 4-ever, his third feature, also focuses on the fate of young people. The heroine of the title is the 16-year-old Russian girl Lilya who lives on a desolate housing estate somewhere in the former Soviet Union. The girl is looking forward to travelling to America with her mother and her new lover. Her mother, however, leaves her behind without a word, and without means. Moreover, the girl has to move out of their flat and into a neglected bed-sit. She scrapes a living as best she can, but gradually falls into decline. Then, one day, she meets the amiable Andrei at a disco who offers to take her to Sweden. Before Andrei arrives on the scene, Lilya's only friend is the 14-year-old Volodya whose father had kicked him out of the flat. Moodysson's film is a fairly traditional case study of the impossible social position of abandoned children. The story could well have been set, for example, in Latin America. Here, without unnecessary naturalism, the filmmaker adds dream-like elements to an essentially realistic narration The talented lead Oksana Akinshina also appeared in Sergei Bodrov's jr. film Sisters.
About the director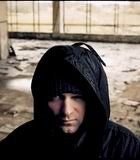 Lukas Moodysson (b. 1969, Malmö) studied film at the Dramatiska Institutet in Stockholm. He has written several poetry collections and one novel. After making several shorts, he began working for Memfis Film and was involved in projects with its founder, the producer Lars Jönsson. After the short film Talk (Bara prata lite, 1997) he soon made a name for himself with his feature debut Show Me Love (1998), which was highly acclaimed in Sweden and elsewhere, and won the Special Jury Prize, the Audience Prize and the FICC award at the KV IFF in 1999. His next film, Together (Tillsammans, 2000), enjoyed perhaps even greater success, screened at the Venice IFF in 2000. Moodysson's third film Lilya 4-ever (2002) treats the difficult lot of young people in a manner both sociologically responsible and attentive to human emotion. He was involved as a screenwriter in the TV series Det nya landet (2000) and as coproducer of the film Jalla! Jalla! (2000, dir. Josef Fares). 
Contacts
Memfis Film AB
Upplandsg. 35, S - 11328, Stockholm
Sweden
Tel: +46 8 335 576
Fax: +46 8 309 934
E-mail: [email protected]

TrustNordisk
Filmbyen 22, 2650, Hvidovre
Denmark
Tel: +45 368 687 88
Fax: +45 367 744 48
E-mail: [email protected]
www: www.trustnordisk.com

Swedish Film Institute
Box 27126, S-102 52, Stockholm
Sweden
Tel: +46 866 511 00
Fax: +46 866 118 20
E-mail: [email protected]
www: www.sfi.se

SPI International Czech Republic
Branicka 1950/209, 140 00, Praha 4
Czech Republic
Tel: +420 261 216 318
Fax: +420 261 221 375
E-mail: [email protected]
www: www.spi-film.cz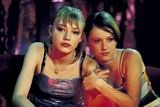 + 1
About the film
Color, 35 mm

| | |
| --- | --- |
| Section: | Horizons |
| | |
| Director: | Lukas Moodysson |
| Screenplay: | Lukas Moodysson |
| Dir. of Photography: | Ulf Brantås |
| Music: | Nathan Larson |
| Editor: | Michal Leszczylowski, Oleg Morgunov, Bernhard Winkler |
| Producer: | Lars Jönsson |
| Production: | Memfis Film AG |
| Cast: | Oksana Akinshina, Artyom Bogucharsky, Lyubov Agapova |
| Contact: | Memfis Film AB, TrustNordisk, Swedish Film Institute, SPI International Czech Republic |
Guests
Ivana Vrbíková
Producer, Producer
Ivan Hronec
Distributor, Cinema Representative, Festival Organizer, TV Representative
Gunnar Almér
Film Institution Rep.