USA / France / Germany
2002, 90 min

Section: Forum of Independents - Competition
Year: 2003
Wilson Joel, a young man in his thirties, searches desperately for some sort of explanation for the unreasonable suicide of his beloved wife Lisa, while his own life gradually falls apart. The excellent Philip Seymour Hoffman stars in the film. 
Synopsis
Wilson Joel is a man forced to confront terrible isolation, his own and that of those around him, after the suicide of his young wife Liza. There were no obvious reasons for Liza's death: she and Wilson were happy, successful and very much in love. She left a letter, but Wilson cannot bear to open it. No one can help him: uncomprehending colleagues, well-meaning friends, Liza's distraught mother. Inconsolable, increasingly adrift, dazed by the petrol he has taken to sniffing, as his life begins to fall apart, Wilson searches desperately for some sort of meaning – Liza's final letter and the explanation it holds is still unread in his pocket. An intimate journey through loss and renewal, a story of life devastated then reawakened by a shocking death.
About the director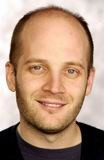 Todd Louiso (b. 1970, Cincinnati) graduated from New York University's film school in 1992. He acted in the TV series Chicago Hope, and has appeared in such films as Apollo 13, The Rock, Jerry Maguire and Stephen Frears' High Fidelity. In 2000 he directed his first short film, 15 Minute Hamlet. 
About the film
Color, 35 mm

| | |
| --- | --- |
| Section: | Forum of Independents - Competition |
| | |
| Director: | Todd Louiso |
| Screenplay: | Gordy Hoffman |
| Music: | Jim O´Rourke (Sonic Youth) |
| Producer: | Jeff Roda, Fernando Sulichin, Chris Hanley, Ruth Charny |
| Production: | Muse Productions, Blacklist Films, Wild Bunch, Kinowelt Film Produktion |
| Cast: | Philip Seymour Hoffman, Kathy Bates |
| Contact: | Wild Bunch |
Guests
Alain de la Mata
Buyer, Buyer