France / Italy
2002, 90 min

Section: Forum of Independents - Competition
Year: 2003
Grazia (Valeria Golino), a young woman living on a small island near Sicily, is too free-spirited for the local village to stomach, particularly for her husband's family, who decide to send her to a psychiatric clinic in far-away Milan. An unusually strong drama set against the backdrop of breath-taking natural surroundings.
Synopsis
Lampedusa, an island near western Sicily. The men go out to sea and the wives work in the fish-packing plant. Fun is restricted to Saturday nights. Time seems to stand still on this island. For some, village life can be as suffocating as it is charming... Grazia is a loving wife and the affectionate young mother of a teenage girl and two boys. But her free spirit sets the entire village gossiping. Her husband, Pietro, stands by Grazia, but pressure from the rest of his family and the whole community is too strong. He agrees that Grazia must be sent to a psychiatric clinic in far-away Milan. But Grazia finds another solution: with the help of her 13-year-old son Pasquale, she runs away from home... This unusually strong drama, full of what are almost barbaric images, is set against a backdrop of breath-taking natural surroundings and uses mostly non-professional actors speaking the local dialect. 
About the director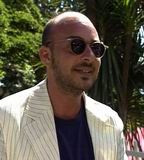 Emanuele Crialese (1965, Rome) studied film in New York, where he also directed his first feature, Once We Were Strangers (1999), a film shot in English which was subsequently selected for many festivals, including Sundance. Respiro, his second film, was made in Italy. 
Contacts
Fandango
viale Gorizia, 19, 00198, Rome
Italy
Tel: +39 0685218137
Fax: +39 06 85218120
E-mail: [email protected]
www: www.fandango.it

Les Films des Tournelles
10 Rue Sainte-Anastase, 75003, Paris
France
Tel: +33 1 427 762 34
Fax: +33 1 427 776 70
E-mail: [email protected]

Roissy Films
58, rue Pierre Charron, 75008, Paris
France
Tel: +33 153 535 050
Fax: +33 142 892 693
E-mail: [email protected]
www: www.roissyfilms.com

About the film
Color, 35 mm

| | |
| --- | --- |
| Section: | Forum of Independents - Competition |
| | |
| Director: | Emanuele Crialese |
| Screenplay: | Emanuele Crialese |
| Dir. of Photography: | Fabio Zamarion |
| Music: | John Surman |
| Editor: | Didier Ranz |
| Producer: | Domenico Procacci, Anne-Dominique Toussaint |
| Production: | Fandango Films, Les Films des Tournelles |
| Cast: | Valeria Golino, Vincenzo Amato, Francesco Casisa, Veronica D´Agostino |
| Contact: | Fandango, Les Films des Tournelles, Roissy Films |