Bulgaria / Romania
2014, 155 min

Section: Another View
Year: 2014
In 1979 Boryana delivers a daughter, Viktoria, an unwanted child with a birth defect: Viktoria has no belly button. Perhaps this is, in fact, also the reason the Communist Party declares her "Baby of the Decade." Maya Vitkova's epic, visually stylised film traces the complex and ambivalent relationships between three generations of women from a single family, set against the backdrop of historical events.
Synopsis
Boryana is determined never to have a child in communist Bulgaria. She shares a small flat with her doctor husband and her mother, and dreams of escaping to the West. All the same, her daughter Viktoria enters the world in 1979, born without a belly button. Perhaps due to this physical defect, Viktoria is declared the country's "Baby of the Decade" and, for the nine years preceding the fall of communism in Eastern Europe, she is pampered by the state and the Communist Party. The director doesn't aim for realism; on the contrary, in her visually stylised, inventive and, at times, ironic piece, she credibly combines epic passages with intimate episodes testifying to the complex characters of the three heroines, and also to an era when it wasn't easy to give and receive love. Told in three parts, the film deftly interweaves archive footage with a tale of the ambivalent relationships between women of three generations, set against the backdrop of the historical events which had a huge impact on their lives. This talented director's feature debut was screened in international competition at this year's Sundance.
About the director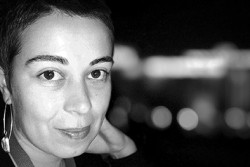 Maya Vitkova (b. 1978, Sofia, Bulgaria) studied film direction at the National Academy of Theatre and Film Arts in Sofia (2001). She worked until 2006 as an assistant director and casting director on various Bulgarian and international films. In 2009 she was executive producer for Kamen Kalev's film Eastern Plays (Iztochni piesi), which was premiered at the 62nd Cannes IFF during the Directors' Fortnight. In 2009 she established Viktoria Films production company, which specialises in independent shorts and features. She directed the documentary Mothers and Daughters (Maiki i dushcheri, 2006) and two short films, Stanka Goes Home (Stanka se pribira vkushchi, 2010) and My Tired Father (2011). Viktoria is her feature debut.
Contacts
Viktoria World Sales and Distribution
Buckstone District bl. 31A, fl.17, apt.77, 1618, Sofia
Bulgaria
Tel: +359 884 905 220
E-mail: [email protected]

About the film
Color, DCP

| | |
| --- | --- |
| Section: | Another View |
| | |
| Director: | Maya Vitkova |
| Screenplay: | Maya Vitkova |
| Dir. of Photography: | Krum Rodriguez |
| Music: | Kaloyan Dimitrov |
| Editor: | Alexander Etimov |
| Producer: | Maya Vitkova |
| Production: | Viktoria Films |
| Coproduction: | Mandragora |
| Cast: | Irmena Chichikova, Daria Vitkova, Kalina Vitkova, Mariana Krumova |
| Contact: | Viktoria World Sales and Distribution |
| | |
| www: | www.viktoriathefilm.com |
Guests
Maya Vitkova
Film Director