Archive of films

Stations of the Cross / Kreuzweg
Germany
2014, 107 min

Section: Horizons
Year: 2014
Can a person love God and rock music? And how can a mother be blind to the fact that her adolescent daughter intends to sacrifice herself? Shot in fourteen "stations," the film shows great understanding for its characters as it asks provocative questions concerning religion and faith. The work won Best Screenplay at this year's Berlinale.
Synopsis
Fourteen-year-old Maria has the interests and desires one would expect in a girl of her age. The priest from her local Catholic society endeavours to set her on the right path, as does her mother, who sees the rigour of her faith as both a necessity and a virtue. Maria thus faces constraints on several fronts, while her younger brother suffers from an irreversible disability; troubled by this, she mentions in passing that she wants to offer a sacrifice for his salvation. Does all sin lead to damnation? Will railing against sin ensure God's favour? And is everything really as inevitable as it seems? The mood of the film suggests the influence of Ulrich Seidl or Michael Haneke; in all other respects it manifests a highly distinctive and flawlessly considered formal approach. In a demonstration of exceptional sensitivity, the director allows his condemnation of a severely intolerant faith to filter through the film's humour, a critical stance he then balances with a perceptive insight into the heroine's private struggles. While the mother sees only one possible route, the viewer – despite the stringent cinematic style – sees numerous possibilities.
About the director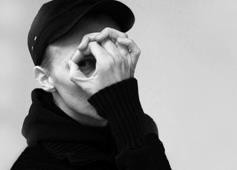 Dietrich Brüggemann (b. 1976, Munich) grew up in Germany and South Africa. He studied at the Hochschule für Film und Fernsehen Konrad Wolf in Potsdam- Babelsberg (2000-06), where he began with shorts (Warum läuft Herr V. Amok?, 2003; Die Schwestern von Schloß Rosensteig, 2004) before moving on to features (Neun Szenen, 2006; Drei Zimmer, Küche, Bad, 2012). These were frequently screened at the Berlinale, where Run If You Can (Renn, wenn du kannst, 2010) opened the Perspektive Deutsches Kino section. He has been involved in photography, music and writing since 1997; he has also established himself as a director of music videos and has accompanied silent films on the piano. Stations of the Cross earned Dietrich and his sister, actress Anna Brüggemann, the Silver Bear for Best Screenplay at this year's Berlinale.
About the film
Color, DCP

| | |
| --- | --- |
| Section: | Horizons |
| | |
| Director: | Dietrich Brüggemann |
| Screenplay: | Dietrich Brüggemann, Anna Brüggemann |
| Dir. of Photography: | Alexander Sass |
| Editor: | Vincent Assmann |
| Producer: | Jochen Laube, Leif Alexis, Frank Evers, Helge Neubronner |
| Production: | UFA Fiction |
| Coproduction: | cine plus Filmproduktion |
| Cast: | Lea van Acken, Franziska Weisz, Florian Stetter, Lucie Aron, Moritz Knapp |
| Contact: | Beta Cinema GmbH |
Guests
Cosima Finkbeiner
Sales Agent
Dietrich Brüggemann
Film Director
Tassilo Hallbauer
Sales Agent