Archive of films

Something Must Break / Nånting måste gå sönder
Sweden
2014, 81 min

Section: Another View
Year: 2014
Sebastian is an androgynous 20-year-old desperately looking for love. He finds it in punk Andreas, who becomes both his lover and nemesis. Unable to think of himself as gay, Andreas has difficulty dealing with the feelings and passions binding him to another man. More and more, Sebastian takes refuge in the female alter ego budding within him and already answering to the name Ellie.
Synopsis
Sebastian is an androgynous 20-year-old navigating the inhospitable world of contemporary Stockholm in order to find love – or at least the illusion of love created through chance encounters that become one night stands. His sexual adventures often land him in dangerous situations, and it is from one of these that Andreas rescues him. A guardian angel in a leather jacket – Sebastian thinks he's found the love of his life, and he has no intention of giving him up without a fight. From that moment on, they ride a roller coaster of love, loathing, and fatal attraction, but something else is happening as well: a sleuth-like investigation into their sexual and gender identities. Andreas is convinced he isn't gay but he is unable to break free of Sebastian, and the more he tries the more Sebastian escapes into his female alter ego Ellie. This tender yet raw story about love, self acceptance, and passion rivetingly combines the realism of a documentary with the stylization of images reminiscent of canvases by Baroque masters.
About the director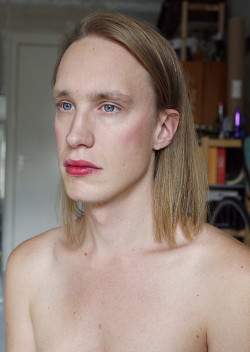 Ester Martin Bergsmark (b. 1982, Stockholm) began working with Mark Hammarberg while studying documentary direction at Biskops Arnö Folkhögskola. Over the course of four years they worked out an innovative experimental style combining original stylization with distinctive documentary methods. Together they directed the short doc Swallow It (2007), as well as the feature Maggie in Wonderland (2008), which won a Guldbagge for Best Swedish Documentary from the Swedish Film Institute. In 2009 Bergsmark contributed, along with 11 other directors, to the porn story-showcase for women entitled Dirty Diaries. After festival success with the documentary She Male Snails (2012), screened in Another View at the 47th KVIFF, he debuted in features with Something Must Break, winning the main prize for the film at the Rotterdam IFF.
About the film
Color, DCP

| | |
| --- | --- |
| Section: | Another View |
| | |
| Director: | Ester Martin Bergsmark |
| Screenplay: | Eli Levén, Ester Martin Bergsmark |
| Dir. of Photography: | Lisabi Fridell, Minka Jakerson |
| Editor: | Ester Martin Bergsmark, Andreas Nilsson, Marlene Billie Andreasen, Hanna Storby |
| Producer: | Anna-Maria Kantarius |
| Production: | Garagefilm International AB |
| Cast: | Saga Becker, Iggy Malmborg, Shima Niavarani, Mattias Åhlén |
| Contact: | Swedish Film Institute, OUTPLAY |