Italy / Romania / Greece
2014, 80 min

Section: Forum of Independents - Competition
Year: 2014
Unfolding in an unspecified southern Italian provincial town, the movie forgoes a dramatic buildup, furnishing instead a succession of scenes in which the individual characters meet. Shots and music composed with sophistication, however, introduce a vague feeling of foreboding, even menace. This project comes from independent Apulian filmmakers with leanings toward experimentation.
Synopsis
In the opening scene we are witness to an old man's lament about a world he no longer understands. Subsequent sequences gradually introduce us to various inhabitants of an unspecified southern Italian village and to the many bizarre situations in which the characters of the three vaguely adumbrated stories appear. Although some of them meet on a daily basis, the viewer receives scant information about their relationships, let alone their lives, and with no plot context. Nevertheless, the tone generated by the artfully composed shots and musical accompaniment suggests something inauspicious, even subliminally disturbing. The film, the script of which earned director Caputo the Mattador International Screenwriting Award, seeks to explore the typical Italian provincial world where the effort to be new and modern clashes with a commitment to deeply rooted traditions. The project was put together by a group of young, independent filmmakers from Apulia interested in connecting experimental music and image, who engaged like-minded collaborators and largely nonprofessional actors.
About the director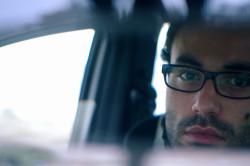 Danilo Caputo (b. 1984, Taranto, Italy) studied music in San Francisco, liberal arts in Berlin, and philosophy in Naples. For his own production company, Taratata Film, he wrote and directed the award-winning shorts Dust (Polvere, 2008) and Banduryst (2009). In 2010 he participated in the Berlinale's Talent Campus. He also produced his first feature Late Season (2014), winning the Mattador International Screenwriting Award for the script. At present he is working on the short film The Provinces (Province).
About the film
Color, DCP
World premiere
| | |
| --- | --- |
| Section: | Forum of Independents - Competition |
| | |
| Director: | Danilo Caputo |
| Screenplay: | Danilo Caputo, Valentina Strada |
| Dir. of Photography: | Bastian Esser |
| Music: | Valerio Camporini Faggioni |
| Editor: | Valeria Sapienza, Sergio Recchia |
| Producer: | Danilo Caputo, Alex Traila, Konstantina Stavrianou |
| Production: | Taratata Film |
| Coproduction: | Steppenwolf Film, GRAAL S.A |
| Cast: | Espedito Chionna, Michela Di Napoli, Francesco Giannico |
| Contact: | Steppenwolf Film |
| | |
| www: | www.lamezzastionge.it |
Guests
Alex Traila
Festival Organizer, Film Institution Rep.
Danilo Caputo
Film Director
Valerio C. Faggioni
Music Composer
Sergio Recchia
Film Editor
Marco Saitta
Film Crew
Michela Di Napoli
Actress
Bastian Esser
Director of Photography
Konstantina Stavrianou
Producer