Georgia / Germany / France / Czech Republic / Kazakhstan
2014, 100 min

Section: Official Selection - Competition
Year: 2014
Told through captivating imagery and visuals this long-awaited movie from a renowned Georgian filmmaker is an unusual psychological drama that demonstrates just how unnecessary dialogue can be for creating maximum audience effect. An old peasant and his innocent 16-year-old granddaughter sow corn on an island in the middle of the Inguri River dividing Georgia from Abkhazia. The intense bond between nature and the two individuals is disturbed, however, by the arrival of the border police.
Synopsis
The Inguri River forms a natural border dividing Georgia from Abkhazia. One of the spring floods has created a little island in the middle of the river, as if made for the cultivation of corn. At least, this is the belief of an old peasant, whose sunburned face resembles the landscape he has trodden for dozens of years. In his long-awaited new movie, the Georgian filmmaker finds a quiet companion in the old man, who carries out his work silently and with almost ritual deliberation; Ovashvili moves fluidly around his subjects, allowing Elemer Ragalyi's camera to perform pure magic. Betraying an eye for scenic composition and practically without the use of dialogue, the director pieces together a crystal clear drama of the bond between man and nature. The captivating imagery is complemented by the protagonists' intense expressions, which reflect apprehension the moment a border patrol boat approaches the island. Capturing the characters' daily toil and minimal interaction in a fashion all its own, this psychological drama achieves a symbolic timelessness.
About the director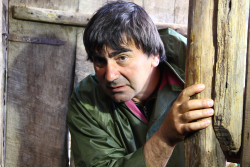 George Ovashvili (b. 1963, Mtskheta, USSR) studied at the Georgian State Institute of Film and Theatre (1996) and at the Hollywood branch of the New York Film Academy (2006). He is involved both in documentary and feature film work, which he frequently also produces himself. He has made several remarkable short films, with Eye Level (Mzeris Doneze) winning awards at Berlin and Odense in 2005. In 2009 KVIFF's East of the West competition section screened his feature debut The Other Bank (Gagma Napiri, 2008), which garnered around fifty awards and was nominated for the European Film Academy's European Discovery of the Year.
Contacts
Pascale Ramonda
91 rue de Ménilmontant, 75020, Paris
France
Tel: +33 662 013 241
E-mail: [email protected]

About the film
Color, DCP
World premiere
| | |
| --- | --- |
| Section: | Official Selection - Competition |
| | |
| Director: | George Ovashvili |
| Screenplay: | Nugzar Shataidze, George Ovashvili, Roelof Jan Minneboo |
| Dir. of Photography: | Elemer Ragalyi |
| Music: | Josef Bardanashvili |
| Editor: | Sun-Min Kim |
| Producer: | Nino Devdariani |
| Production: | Alamdary Film |
| Coproduction: | 42film, Arizona Productions, Axman Production, Kazakhfilm |
| Cast: | Ilyas Salman, Mariam Buturishvili, Irakli Samushia, Tamer levent |
| Contact: | Pascale Ramonda |
Guests
Guillaume De Seille
Producer, Distributor, Sales Agent
George Ovashvili
Film Director
Karla Stojáková
Producer
Mariam Buturishvili
Actress
Guram Odisharia
Politician
Eike Goreczka
Producer
Bénédicte Thomas
Distributor, Producer
Nino Devdariani
Executive Producer
Sain Gabdullin
Producer
Roelof Jan Minneboo
Screenwriter
Olga Khlasheva
Producer
Ivana Axmanová
Film Crew
Roman Kašparovský
Producer, Service Company Rep.
Barbora Dlabajová
Film Institution Rep.
Nana Janelidze
Film Institution Rep.
Mariam Bitsadze
Film Crew
Bachana Ovashvili
Film Crew
Madona Vasadze
Film Crew
Lyazzat Dyussebayeva
Film Crew
Barbora Benešovská
Distributor, PR & Marketing
Arkaitz Basterra
Film Crew
Josef Bardanashvili
Music Composer
Natalia Tychinskaia
Producer