Archive of films

Ancha es Castilla / N'importe quoi / Ancha es Castilla / N'importe quoi
Alegría is possessed by the devil but exorcism isn't much help, and neither is her daddy who'd much rather hit the bar. This wild and black grotesque is at once a parody of polished animated movies and proof that the choice to forgo sophisticated cinematic illusions can still lead to a beguiling film.
Synopsis
"She's so ugly!" – say Alegría's parents of their possessed daughter. And actually everything in the film is ugly. To its benefit. Created with an imagination wilder than a whirling dervish, the film combines elements of traditional horror with a punk approach to moviemaking. The result is an unrestrained work that seems bent on dragging operatic grandeur and superficial beauty in the dirt. Here, a two-bit story of exorcism, in which the starring roles are played by puppets resembling the product of abortive art-class slapdashery, takes on darkly humorous, even cruel, in places unexpectedly sad, contours.
About the director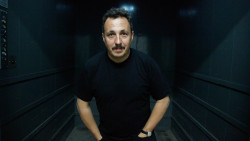 Sergio Caballero (b. 1966) is artistic director of Sónar, Barcelona's International Festival of Advanced Music and New Media Art. He is a composer of electronic music, a creator of conceptual art, and a cross-media dabbler in provocative Sónar advertising campaigns. His feature debut Finisterrae (2010) took honors at Rotterdam, the venue for the premiere of La distancia (2014), his second full-length film.