Archive of films

Action on the Strip / Action on the Strip
The 1960s are coming to an end but not, however, the wild parties or protests dominating LA's Sunset Strip. This dynamic compilation film brings together period footage, music, and news reporting to create a portrait of an era whose bright variegation slowly began to take on darker hues.
Synopsis
The 1960s are coming to an end and the streets of Hollywood are rife with the scent of psychedelia, protests, and police actions against the young. In his short film, American filmmaker John Warren has put together a tribute to the turbulent era as best captured in shots from the Sunset Strip. He returns to a time that ushered in mass intoxication, as well as innovation and agitation – which often went hand-in-hand, as in the case of LSD. Warren respects period esthetics but put his own stamp on the work when editing the found footage.
About the director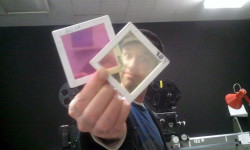 John Warren is an American artist and teacher whose numerous short films are linked by his interest in expression that transcends language. His work has screened at festivals and galleries around the world (e.g. London FF and REDCAT in Los Angeles). He holds an MFA from the California Institute of the Arts and currently teaches in Nashville. Selected filmography: Elegy (2006), 5 Second Noir (2012), She Comes in Colors (2014).