Greece / Germany / Cyprus
2014, 138 min

Section: Horizons
Year: 2014
A staid-looking man is indebted to his "boss" for his life, so he decides to devote himself to a single task – getting the underworld kingpin out of prison. This austere picture, which competed at this year's Berlinale, builds upon a strong hero with an utterly inscrutable face, while genre elements have been replaced by considerations of the limits of justice.
Synopsis
Stratos spent half his life in prison, where the powerful Leonidas took him under his wing and even once saved his life. Now Stratos works the night shift at a bakery – murdering for hire by day – and invests all the money he earns on a plan to break Leonidas out of prison. The big day is approaching.… Perhaps this austere movie's straight-up criminal plotline is sufficient, but it portrays its gangland shenanigans devoid of any romance or purely generic elements, replacing them with an emphasis on social issues. The surrounding world is characterized as despondingly indifferent, much like the movie's pervasive, life-draining gloom. Stratos' quick gestures and powerful resolve while at work combine with a moderate dose of mystery, thereby supplying the film with sustained tension and subliminal anxiety. Looking at the taciturn main character, it's hard to read anything at all, and when the man – an otherwise reliable killer – decides to start doing things his own way, the tension only builds.
About the director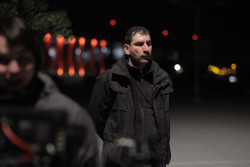 Yannis Economides (b. 1967, Limassol, Cyprus) headed for Athens in 1987 to study film. After a number of shorts and documentaries he debuted in features in 2003 with Matchbox. His second film Soul Kicking (2006) screened in Cannes' Critics' Week before competing at several festivals around the world. His third movie Knifer (2010) premiered at Korea's prestigious Busan festival and took seven awards from the Greek Film Academy, including best picture, director, and script. Economides also wrote the screenplay for Stratos, which competed this year at the Berlin IFF.
About the film
Color, DCP

| | |
| --- | --- |
| Section: | Horizons |
| | |
| Director: | Yannis Economides |
| Screenplay: | Yannis Economides, Thanos Xiros, Vangelis Mourikis, Christos Konstantakopoulos, Harry Lagoussis |
| Dir. of Photography: | Dimitris Katsaitis |
| Music: | Babis Papapdopoulos |
| Editor: | Yannis Chalkiadakis |
| Producer: | Christos V. Konstantakopoulos |
| Production: | Faliro House Productions |
| Coproduction: | Argonauts Productions, The Match Factory, Y.E Films |
| Cast: | Vangelis Mourikis, Vicky Papadopoulou, Petros Zervos, Yannis Tsortekis |
| Contact: | The Match Factory |
Guests
Christos Konstantakopoulos
Producer