France
2014, 200 min

Section: Horizons
Year: 2014
This comic television miniseries deals with an investigation into a proliferating number of bizarre murders in the French countryside. The playful subversion of the conventional detective story is, in terms of imaginativeness, a unique project that provoked enthusiastic acclaim after screening in the Directors' Fortnight at Cannes.
Synopsis
The first day of the summer holidays in the French countryside is nothing unusual for little Quinquin. He hangs around with his friends and annoys passers-by letting off  firecrackers. All of a sudden, however, a police helicopter appears and disturbs this summer tedium. A dead cow has been found in an abandoned military bunker with a hacked-up local resident hidden inside its body. The two investigating detectives, each one eccentric in his own way, delve into the case as the number of suspects and other victims steadily grows. This television miniseries – which playfully subverts the conventions of the detective genre – marks Dumont's first foray into comedy. Visually and thematically refined, the work resembles little of what we are used to seeing on television. Above all, it betrays great authenticity and underhand humor as it looks at the disturbing nature of evil and its influence on rural life.
About the director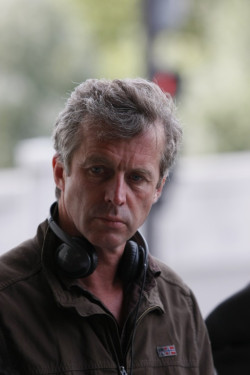 Bruno Dumont (b. 1958, Bailleul, France) entered the film industry as a self-taught filmmaker. He gained international attention with his feature-length debut The Life of Jesus (La vie de Jésus, 1997). His provocative works have placed him among contemporary French filmmakers opting for a personal aesthetic style and unsettling subject matter, whose works evoke controversy with their naturalistic, taboo-defying approach. Dumont's films have been shown at prestigious festivals and won numerous awards: The Life of Jesus (1997), Humanity (L'humanité, 1999), Twentynine Palms (2003), Flanders (Flandres, 2006), Hadewijch (2009), Outside Satan (Hors Satan, 2011), and Camille Claudel 1915 (2013). Li'l Quinquin is his first comedy and his first TV project.
About the film
Color, DCP

| | |
| --- | --- |
| Section: | Horizons |
| | |
| Director: | Bruno Dumont |
| Screenplay: | Bruno Dumont |
| Dir. of Photography: | Guillaume Deffontaines |
| Editor: | Bruno Dumont, Basile Belkhiri |
| Producer: | Jean Brehat, Muriel Merlin |
| Production: | 3B Productions |
| Coproduction: | Arte, Pictanovo, Le Fresnoy |
| Cast: | Alane Delhaye, Lucy Caron, Bernard Pruvost, Philippe Jore |
| Contact: | Mantarraya NDM |