Penetrating the bowels of the monster isn't easy but this film anatomy of the renowned Milan stadium succeeded in doing just that. Although the roar of the match wafts in from a distance, this elegantly concise film brings to life the magic of a fascinating place dedicated to a ritual with today's greatest mass appeal.
Synopsis
The church music playing over the closing titles emphasizes the significance of an event that occurs at a place which is tantamount – if we accept the perception of football as a religion – to holy ground or, at the very least, a mystical location. Even still, this "anatomy of a stadium," as the director himself calls it, isn't a commentary on the phenomenon of football as a substantive or clinical study of a place. From certain angles, San Siro reveals itself to us as a monstrous yet fascinating structure that employs countless people whose roles have been subordinated to a single purpose.
Viktor Palák
About the director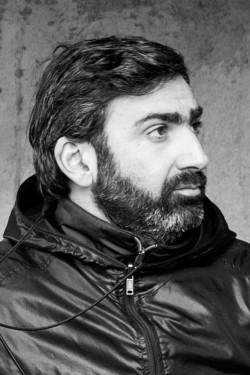 Yuri Ancarani (b. 1972, Ravenna, Italy) is an Italian filmmaker involved in video art whose work evolved from a continuous mingling of documentary cinema and contemporary art. His films have been accepted into the programs of leading world festivals, including Venice, Locarno, Rotterdam, and IDFA, and shown at top exhibition halls in New York, Los Angeles, and Rome. Selected filmography: The Chief (Il Capo, 2010), Da Vinci (2012), and Memories for Moderns (Ricordi per Moderni, 2013).
About the film
Color, DCP

| | |
| --- | --- |
| Section: | Imagina |
| | |
| Director: | Yuri Ancarani |
| Screenplay: | Yuri Anacarani |
| Dir. of Photography: | Yuri Ancarani |
| Music: | Lorenzo Senni, Wang Inc. |
| Editor: | Yuri Ancarani |
| Art Director: | Yuri Ancarani |
| Producer: | Marta Bianchi |
| Production: | Careof DOCVA |
| Coproduction: | Sky per il Sociale |
| Sales: | Studio Ancarani |
| | |
| www: | http://galleriazero.it/it/node/281 |