Italy
2014, 109 min

Section: Horizons
Year: 2015
The marriage of a New York couple starts to fall apart after the birth of a child who seems to exhibit supernatural powers. A psychological thriller reminiscent of Rosemary's Baby that excels for its detailed character portrayal, shifting tension and fine performances from the two leads, who both won awards at Venice IFF.
Synopsis
Jude and Mina make a perfect couple. However, their matrimonial bliss comes to a sudden end with the birth of their first child. Sensitive Mina is convinced there is something special about the baby and starts obsessively protecting him from the "contamination" of the outside world. She decides upon an alternative way of feeding him and he stops growing as a result. Jude, who is rational in his thinking, tries to save both the boy's life and their disintegrating marriage. This psychological thriller, reminiscent of Rosemary's Baby and Blue Valentine, was adapted from the novel by Italian writer Marco Franzoso The Indigo Child. Directed with Hitchcockian precision, the film offers a detailed character portrayal, while allowing the tension to slowly gather momentum, enhanced by a mutual complement of image and sound (featuring a string score from Nicola Piovani). Adam Driver (Frances Ha) and Alba Rohrwacher (The Solitude of Prime Numbers) were awarded the Volpi Cup at last year's Venice IFF for their performances in the film.
Jan Křipač
About the director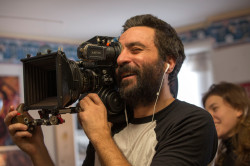 Saverio Costanzo (b. 1975, Rome) studied sociology of communications at Sapienza University of Rome (1998). He began making movies during his time in New York, where he shot the documentary Caffè Mille Luci, Brooklyn, New York (1999). For his feature debut Private (2004) he won a Golden Leopard at the Locarno IFF and the David di Donatello Award for Best New Director. His next film In Memory of Me (In memoria di me, 2007) was entered for the main competition at Berlin and was included in Karlovy Vary's Focus on New Italian Directors. In 2011 the Karlovy Vary IFF also screened his drama The Solitude of Prime Numbers (La solitudine dei numeri primi, 2010) in its Horizons section. Costanzo then created an Italian version of the American HBO series "In Treatment" (2013) for Sky Cinema TV.
Contacts
Radiant Films International
6255 W. Sunset Blvd., Suite 1100, CA 90028, Los Angeles
United States of America
Tel: +1 310 601 2726
Fax: +1 310 278 4229
E-mail: [email protected]
www: www.radiant-films.com

About the film
Color, DCP

| | |
| --- | --- |
| Section: | Horizons |
| | |
| Director: | Saverio Costanzo |
| Screenplay: | Saverio Costanzo podle románu / based on the novel Il bambino indaco by Marco Franzoso |
| Dir. of Photography: | Fabio Cianchetti |
| Music: | Nicola Piovani |
| Editor: | Francesca Calvelli |
| Art Director: | Amy Williams |
| Producer: | Mario Gianani, Lorenzo Mieli |
| Production: | Wildside |
| Coproduction: | Rai Cinema |
| Cast: | Adam Driver, Alba Rohrwacher, Roberta Maxwell |
| Sales: | Radiant Films International |
Guests
Saverio Costanzo
Alba Rohrwacher
Actress