Czech Republic
2014, 66 min

Section: Documentary Films - Out of Competition
Year: 2015
A wild game hunter might be an expert on game, or someone who loves natural beauty, a poet, a collector of exotic trophies, a traveller, or an adventurer. Or he might be none of these things. The debuting director selects three unconventional protagonists to assist him in capturing the contradictory nature of the hunting phenomenon, Central European style.
Synopsis
This documentary essay sheds light on the phenomenon of hunting, Central European style. It acquaints viewers with three men, each of whom has a different approach to wild game hunting, and asks what leads them to decide in a fraction of a second to end the life of a magnificent creature. Whether they are motivated by the desire for adventure, by the need to expand their collection of antler trophies, or by the idea of a serene afternoon spent in their favourite blind, the fundamental issue remains: Is hunting an exalted passion or is it the kind of obsession that has no place in modern society? Working consistently with static shots and visual motifs, the debuting director circles around his subject without passing judgement on the situations he presents or on his chosen protagonists. Conscious of the fact that certain questions don't always have a single right answer, he succeeds in this stylistically clear-cut and remarkably mature graduation documentary in capturing the contradictory nature of hunting.
Martin Horyna
About the director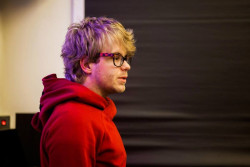 Jaroslav Kratochvíl (b. 1985, Plzeň, Czechoslovakia) studied political science at the University of West Bohemia in Plzeň and documentary filmmaking at Prague's FAMU, from where he graduated in 2012. He is now studying for his doctorate and is researching the portrayal of Germans in Czechoslovak documentary film between 1945 and 1968. His student shorts General (2007) and The Munich Agreement (Mnichovský diktát, 2009) covered historical and political themes. He collaborated with Czech Television on a cycle of programmes mapping out Jewish cemeteries in ten regions of the Czech Republic, on the series "Expremiers and Children of Stalinism" (Děti 50. let), and on the TV series "Paths of Faith" ("Cesty víry"). Long Live Hunting! is his feature-length documentary debut.
About the film
Color, DCP

| | |
| --- | --- |
| Section: | Documentary Films - Out of Competition |
| | |
| Director: | Jaroslav Kratochvíl |
| Screenplay: | Jaroslav Kratochvíl |
| Dir. of Photography: | Prokop Souček, Jan Balcar |
| Editor: | Adam Brothánek |
| Producer: | Pavla Kubečková |
| Production: | Nutprodukce |
| Coproduction: | FAMU - Film and TV School of the Academy of Performing Arts |
| Contact: | nutprodukce |
| Distributor: | Verbascum Imago, s.r.o. |
Guests
Jaroslav Kratochvíl
Jan Balcar
Director of Photography
Adam Brothánek
Film Editor
Prokop Souček
Director of Photography
Kateřina Šafaříková
Producer
Tomáš Hrubý
Producer