Archive of films

Sunrise Supervising / Odborný dohled nad východem slunce
Czech Republic
2014, 72 min

Section: Czech Films 2014–2015
Year: 2015
A black-and-white flick set in North Bohemia where three ex-prisoners are determined to get even with a local pub owner who wrecked their lives some years back. This Eastern comedy by director Pavel Göbl brings Vratislav Brabenec to the big screen, saxophonist of the rock band The Plastic People of the Universe, supported by Jiří Lábus in the role of the former STB agent.
Synopsis
A favourite of the director, Vratislav Brabenec from the underground rock band The Plastic People of the Universe plays an aging saxophonist who was never part of a proper band himself but made recordings of other groups. He was locked up for this under socialism. He's now buying a run-down house in the border region of North Bohemia, from where he is planning the mother of all revenges. He is soon joined by old mates played by amateur actors Jiří Vymětal and Joža Polievka. They, too, have yet to settle their own scores with the pub owner (Jiří Lábus) who serves beer in the local taproom, blithely unaware that he once caused our heroes great grief. This flick was written and directed by eccentric filmmaker and author Pavel Göbl who already has a micro-budget avant-garde piece and commercial comedy behind him. Sunrise Supervising represents his more artistic side. It breaks away from stock Czech production with its rough acting performances, black-and-white lensing and its memorable score.
Šimon Šafránek
About the director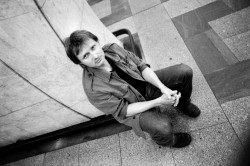 Pavel Göbl (b. 1967, Uherské Hradiště, Czechoslovakia) studied direction at FAMU (2002). His segment The Open Country of a Lonely Man (Otevřená krajina svobodného muže) was screened in cinemas as part of the compilation film Radhošť, which received the Don Quixote Award from the FICC international jury at Finále Plzeň in 2002. He also made the TV films Maple Goulash (Javorový guláš, 2001), Juicy Girl (Šťáva, 2004) and Yokels (Balíci, 2005). His feature film debut was the tragicomedy Rail Yard Blues (Ještě žiju s věšákem, plácačkou a čepicí, 2006). He then came up with the comedy Veni, Vidi, Vici (2009), the avant-garde flick Gorilla (2011) and the fairy tale The Blacksmith from Woodham (Kovář z Podlesí, 2013). Göbl is also an established writer: his novella The Silent Companion (Tichý společník) won the Magnesia Litera award as Discovery of the Year in 2009, and his second book The Penis of Truth (Penis pravdy, 2012) was nominated for the Josef Škvorecký Prize.
About the film
Black & white, DCP

| | |
| --- | --- |
| Section: | Czech Films 2014–2015 |
| | |
| Director: | Pavel Göbl |
| Screenplay: | Pavel Göbl |
| Dir. of Photography: | Jiří Zykmund |
| Music: | Byl pes – Tomáš Zika |
| Editor: | Ilona Malá, Tomáš Doruška |
| Producer: | Tomáš Bělohradský, Přemysl Klimsza |
| Production: | Czech FILM s.r.o. |
| Cast: | Jiří Lábus, Vratislav Brabenec, Jiří Vymětal, Jozef Polievka, Nikol Fischerová |
| Contact: | Czech FILM s.r.o. |
| Distributor: | Czech FILM s.r.o. |
| | |
| www: | odborny-dohled-nad-vychodem-slunce.cz |
Guests
Pavel Göbl
Přemysl Klimsza
Producer, Distributor