USA
2014, 107 min

Section: Horizons
Year: 2015
In this contemporary, wonderfully cast crime drama, Tom Hardy and James Gandolfini star respectively as the tender and manager of a bar that serves as a collection drop where New York gangsters temporarily store their ill-gotten gains. But there's one thing that should never happen: allowing yourself to get robbed. The hardball, English-language debut of talented Belgian director Michaël R. Roskam (Bullhead).

Synopsis
Tom Hardy plays a loner bartender named Bob whose measured manners contrast sharply with the Brooklyn filth of his cousin Marv's (James Gandolfini) clandestine business. From time to time the bar functions as a gangland money drop, but surprisingly that's not when the place gets robbed. Nevertheless, the Chechen owner Chovka pushes Bob and Marv hard to find the money – and fast. But the situation becomes more complicated for Bob when his pretty neighbor Nadia (Noomi Rapace) enters his life, along with an abused dog and the dog's original owner (Matthias Schoenaerts). Although the story unfolds within the limited space defined by the drinking establishment, screenwriter and author Dennis Lehane stirs things up via complex relationships, as he does in his other books and stories that have been turned into pictures: Mystic River (2003) and Gone Baby Gone (2007). The Drop is Belgian director Michaël R. Roskam's second film after his attention-grabbing debut Bullhead (2011), which premiered at Berlin and screened at KVIFF.
Šimon Šafránek
About the director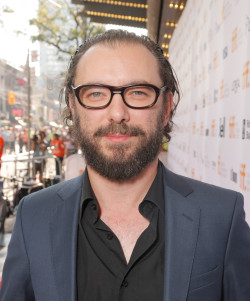 Michaël R. Roskam (b. 1972, Sint-Truiden, Belgium) graduated in 1997 from St. Lucas Academy of Fine Arts in Brussels, where he studied painting and contemporary art. He began making movies in 2002 with his first short Haun, which toured the international festival circuit, and his second short film Carlo (2004) was also a success. His next short The One Thing to Do (2005) played to enthusiastic festival audiences, and his most recent short premiered in 2007: Today Is Friday. His feature debut Bullhead (2011), presented in the Panorama section at the Berlinale, and subsequently shown at Karlovy Vary, received the Best Foreign Language Film Oscar nomination. Roskam's The Drop (2014) first screened at Toronto, and went on to win the Jury Prize for Best Screenplay at San Sebastián.
About the film
Color, DCP

| | |
| --- | --- |
| Section: | Horizons |
| | |
| Director: | Michaël R. Roskam |
| Screenplay: | Dennis Lehane podle své povídky / based on his own novel Animal Story ​ |
| Dir. of Photography: | Nicolas Karakatsanis |
| Music: | Marco Beltrami |
| Editor: | Christopher Tellefsen |
| Art Director: | Thérèse DePrez |
| Producer: | Peter Chernin, Jenno Topping |
| Production: | Chernin Entertainment |
| Cast: | Tom Hardy, Noomi Rapace, James Gandolfini, Matthias Schoenaerts, John Ortiz |
| Sales: | Hollywood Classics |
| Distributor: | CinemArt, a.s. |
| | |
| www: | http://www.thedrop-movie.com/ |
Guests
Michaël R. Roskam
Marek Jeníček
Distributor, Producer
Aleš Tříska
Distributor, Producer
Aleš Danielis
Distributor
Jaroslav Kutheil
Distributor
Irena Kobosilová
Distributor, PR & Marketing
Melanie Tebb