Czech Republic / Poland
2015, 100 min

Section: East of the West - Competition
Year: 2015
There are as many stories in the world as there are people, and Vašek, a timid guard at a gallery who becomes a reluctant painting thief, hears plenty of them on his train trip to Rome. This multilevel comedy road movie (on a train) and quest for the meaning of life is director Tomasz Mielnik's feature debut.
Synopsis
The day's work never ends for a guard worth his salt, even when the gallery closes at seven. And Vašek is a perfect example, at least until he meets Ginger – a femme fatale who has her own plans where he's concerned. Love turns this nice lad into a thief: armed with a false moustache, sunglasses and a stolen painting, he gets on a train and it remains to be seen whether or not his journey to Rome is paved with good intentions. The train compartment is full of passengers keen to impart their life stories – to him or to anyone who'll listen. The withdrawn young man pays close attention to it all, even though he has plenty to worry about as it is. The police and a bunch of crooks are hot on his heels and it's difficult trying to give them the slip with a hefty painting in tow. Spiritual comedy, railroad movie, a polemic on our journey through life – Tomasz Mielnik's feature debut is all these. This wide-ranging, highly stylised story filled with references to film classics uses hyperbole to ask, "What, in fact, is the meaning of life?"
Anna Kořínek (Purkrábková)
About the director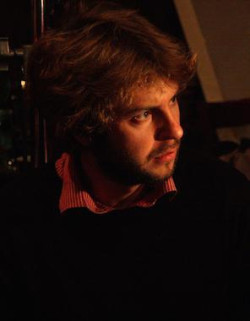 Tomasz Mielnik (b. 1980, Wrocław, Poland) studied art history at the University of Wrocław. He then moved to Prague where he completed his film directing course at FAMU with the feature Journey to Rome. During his studies he made several shorts: On Sunday (V neděli, 2008), Remembering Mother (Vzpomínka na matku, 2008) and Anonymous (Anonym, 2009). His short documentary Conductor (Dyrygent, 2009) came out as a supplement to a monograph on theatre director Jerzy Grotowski. The film that earned him his bachelor's degree, Girl 180 (Holka 180, 2010), was shown at festivals around the world, including the Molodist IFF in Kiev. In 2013 Mielnik attended a workshop organised by the International Filmmaking Academy headed by Bernardo Bertolucci, Gian Vittorio Baldi and Abbas Kiarostami.
About the film
Color, DCP
World premiere
| | |
| --- | --- |
| Section: | East of the West - Competition |
| | |
| Director: | Tomasz Mielnik |
| Screenplay: | Tomasz Mielnik |
| Dir. of Photography: | Jan Šuster |
| Music: | Martin Klusák |
| Editor: | Šimon Hájek |
| Art Director: | Pavel Nový |
| Producer: | Mikuláš Novotný |
| Production: | Background Films |
| Coproduction: | Česká televize, FAMU - Film and TV School of the Academy of Performing Arts, EasyBusyProductions, Magilab |
| Cast: | Václav Hrzina, Petr Slavík, Berenika Kohoutová, Miroslav Donutil, Johana Švarcová, Juraj Herz |
| Contact: | Background Films |
| | |
| www: | www.cestadorima.cz |
Guests
Tomasz Mielnik
Mikuláš Novotný
Producer
Václav Hrzina
Actor
Berenika Kohoutová
Actress
Jan Šuster
Director of Photography
Michaela Patríková
Other
David Titěra
Sound Designer
Martin Klusák
Film Crew, Music Composer
Weronika Czołnowská
Producer
Šimon Hájek
Editor
Pavel Jech
Film Institution Rep.
Radim Procházka
Producer, Film Director