USA
2015, 83 min

Section: Another View
Year: 2015
In her 60s and still not a conformist, Krisha arrives at her sister's house to celebrate Thanksgiving with the entire family. During preparations for the meal, however, old wounds are reopened. This stylistically courageous drama is the debut of Trey Edward Shults, a former Terrence Malick student. Awarded at SXSW.
Synopsis
Krisha is the black sheep of a large Houston family. When she visits for Thanksgiving, the affected welcome is hardly convincing. Krisha, who hasn't seen her relatives in many years, tries to fit in, but this doesn't mean that she has to give up her secret treasure chest full of various medicines. The more she tries to put on a pleasant face, the sooner the false smile disappears. Making this film was a highly personal family affair for the director – he cast his aunt, mother and grandmother in the main roles. Krisha's estranged son is played by Shults himself, and the movie was filmed over the course of eight days in his family home. The long shots which Shults uses to intensify the atmosphere of the family home alternate with jarring sequences at just the right moments, and the whole film is accompanied by organic music that will set your teeth on edge. "I approached the editing the same way as the visuals – to make everything from Krisha's point of view, as we go on this journey with her."
Šimon Šafránek
About the director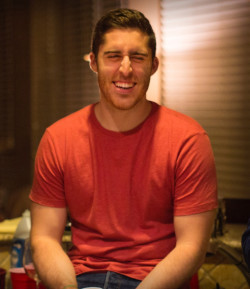 Trey Edward Shults (b. 1988, Houston, Texas) started out as a member of the camera team for Terrence Malick's documentary Voyage of Time (2016), and he also helped out on his epic The Tree of Life (2011). In 2014, Shults showed a short version of Krisha at SXSW, which won the Special Jury Recognition for Cinematography. That same year, he filmed a feature-length version of the story, which was screened at this year's SXSW, where it won the Grand Jury Award and the Audience Award. Shults contributed to his debut as director, screenwriter, producer, editor and actor.
Contacts
Visit Films
173 Richardson Street, NY 11222, Brooklyn
United States of America
Tel: +1 718 312 8210
Fax: +1 718 362 4865
E-mail: [email protected]
www: www.visitfilms.com

About the film
Color, DCP

| | |
| --- | --- |
| Section: | Another View |
| | |
| Director: | Trey Edward Shults |
| Screenplay: | Trey Edward Shults |
| Dir. of Photography: | Drew Daniels |
| Music: | Brian McOmber |
| Editor: | Trey Edward Shults |
| Producer: | Justin R. Chan, Wilson Smith, Chase Joliet, Trey Edward Shults |
| Production: | Hoody Boy Productions |
| Cast: | Krisha Fairchild, Robyn Fairchild, Bill Wise, Chris Doubek, Olivia Grace Applegate, Trey Edward Shults |
| Sales: | Visit Films |
Guests
Trey Edward Shults
Justin R. Chan
Producer