Italy
2014, 94 min

Section: Horizons
Year: 2015
Naomi has four days to say goodbye to her son after a court grants custody to the boy's European father. Their meeting takes place on a yacht owned by her ex-husband's family, and the crew is instructed to keep an eye on the woman. But as a mother she tries to reconnect with her son, whom she won't be seeing for years. This portrayal of an attempt to renew fragmented bonds within the boat's confined quarters brims with stylistic elegance, allowing for a shining performance from Japanese star Rinko Kikuchi, who appeared in Babel.
Synopsis
A young Japanese woman boards a luxury yacht anchored in the Mediterranean. Its small crew is expecting another guest: the woman's little boy who, after his parents' divorce, was taken from her and entrusted into the custody of the father, a wealthy European. Naomi has four days to say farewell to a child she will not see again for many years. The crew has been instructed never to leave mother and son alone together, nevertheless, the young woman maintains her dignity as she endeavours to reconnect with him any way she can, even though she may be partly to blame for the distance between them. With the exception of a short trip to a secluded beach, Last Summer is set entirely on the yacht. The story occurred to the director when he witnessed the despair of a friend who had found herself in a similar situation. The script is the joint effort of Italian comics artist and illustrator Igort and Japanese writer Banana Yoshimoto. Elegantly shot, this study of fragile human relationships stars internationally acclaimed Japanese actress Rinko Kikuchi, who betrays a talent for muted dramatic roles. Original music by Asaf Sagiv.
Eva Zaoralová
About the director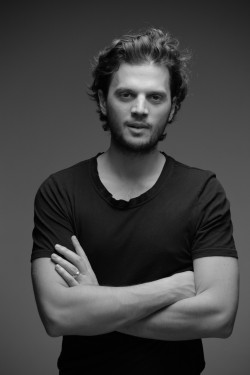 Leonardo Guerra Seràgnoli (b. 1980, Rome) was born in Italy but now lives in London. He studied film music at Berklee College of Music in Boston. He established the production company Essentia in 2006, which supports independent film projects and produced the short films he wrote and directed (Carne e cielo, 2006; Alfred, 2008; Will, 2010; Rachel, 2010; Ama, 2012; Tigers, 2012). The intimate study Last Summer (2014) is his first foray into the world of feature film.
About the film
Color, DCP

| | |
| --- | --- |
| Section: | Horizons |
| | |
| Director: | Leonardo Guerra Seràgnoli |
| Screenplay: | Leonardo Guerra Seràgnoli, Igort, Banana Yoshimoto |
| Dir. of Photography: | Gianfilippo Corticelli |
| Music: | Asaf Sagiv |
| Editor: | Monika Willi |
| Art Director: | Milena Canonero |
| Producer: | Elda Ferri, Luigi Musini |
| Production: | Cinemaundici srl |
| Cast: | Rinko Kikuchi, Yorick van Wageningen, Lucy Griffiths, Laura Sofia Bach, Daniel Ball |
| Sales: | Fortissimo Films |
Guests
Leonardo Guerra Seràgnoli