Archive of films

Wednesday Child / Szerdai gyerek
Hungary / Germany
2015, 94 min

Section: East of the West - Competition
Year: 2015
History sometimes repeats itself. As a nine-year-old, Maja was abandoned by her mother and placed in an orphanage. Now it's ten years later and she keeps returning to the institution – to visit her own four-year-old son. Will she be able to take control of her life despite the unfavorable circumstances and her own self-destructive tendencies?
Synopsis
"You were born on a Wednesday, and Wednesday's children can accomplish whatever they want in life." These are the last words nine-year-old Maja hears from her mother before she is abandoned. Now, ten years have passed and Maja is trying as best she can to fulfil this prophecy. She regularly goes to a children's home to see her four-year-old son and hopes that, one day, she will be able to look after him herself. She's familiar with the home – it's where she met Krisz, her boyfriend and the father of her child. He's a young good-for-nothing who doesn't want to be bothered with any of this and would rather have his girlfriend under lock and key. It seems the only way out of this forlorn situation is to join a local community centre programme which aims to help the socially disadvantaged. In her bleak feature debut Lili Horváth seeks to depict people's struggle with their hapless fate and with themselves. It seems that Maja's self-destructive tendencies are the only obstacle preventing her from taking her life into her own hands.
Anna Kořínek
About the director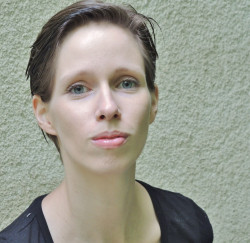 Lili Horváth (b. 1982, Budapest) studied film at Université de la Sorbonne Nouvelle in Paris in 2001-2002. She then continued with a course in television and film direction at the University of Theatre and Film in Budapest, where she earned her master's in 2009 and embarked upon her doctorate. In 2005 she attended the Hochschule für Film und Fernsehen (HFF) Konrad Wolf in Potsdam-Babelsberg as part of the Erasmus scholarship programme. Her films to date include the shorts Summer Holiday (Vakácio, 2006) and Swimming Pool Thief (Uszodai tolvaj, 2007), the documentary The Siege of Budapest – Part IV (Budapest ostroma, IV. rész, 2007), the medium-length Sunstroke (Napszúrás, 2009) and the TV drama On the Way Home (Hazafelé, 2009). She worked as a casting director on Kornél Mundruczó's film White God (Fehér isten, 2014). In addition to her film work she also writes short stories.
Contacts
HNFF World Sales
Róna utca 174, 1145, Budapest
Hungary
Tel: +36 146 113 53
E-mail: [email protected]

About the film
Color, DCP
World premiere
| | |
| --- | --- |
| Section: | East of the West - Competition |
| | |
| Director: | Lili Horváth |
| Screenplay: | Lili Horváth |
| Dir. of Photography: | Róbert Maly |
| Music: | Gábor Presser |
| Editor: | Dániel Szabó |
| Producer: | Károly Fehér |
| Production: | Popfilm |
| Coproduction: | DETAiLFILM, Filmpartners |
| Cast: | Kinga Vecsei, Szabolcs Thuróczy, Zsolt Antal |
| Sales: | HNFF World Sales |
Guests
Lili Horváth
Katalin Vajda
Film Institution Rep.
Károly Fehér
Producer
Róbert Maly
Director of Photography
Klári Garas
Production Manager
Rudolf Várhegyi
Sound Engineer
Csaba Papp
Film Institution Rep., PR & Marketing
Kinga Vecsei
Actress
Henning Kamm
Producer