United Kingdom / Israel
2015, 30 min

Section: Documentary Films - Competition
Year: 2015
It's packed at Fifi's beauty salon in Haifa. As is normal in such a place, the women are quick to enter into conversation. The young director takes advantage of the situation, allowing her customers to air their opinions on the coexistence of Arabs and Jews as she washes their hair, while also offering a more general look at politics, history, love, and life.
Synopsis
A visit to the hairdresser's has the unspoken status of a social activity that offers the time and space for discussing more or less fundamental issues. The same is true of Fifi's, a Haifa beauty salon owned by a Christian Arab. The young director positioned her camera above one of the sinks in order to film conversations with random customers in a place where the women feel safe. Built upon a simple conceptual outline, the documentary investigates Arab-Jewish social coexistence, while also capturing women's opinions on politics, history, love, and life.
Martin Horyna
About the director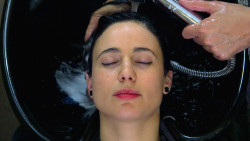 Iris Zaki (b. 1978, Israel) has lived in London since 2009. For several years prior to this she worked for Israeli media. She shot her debut short doc My Kosher Shifts (2011) at the hotel where she worked the reception desk in order to pay her rent. In 2013 she commenced a practice-based PhD in documentary filmmaking. Her research explores her own innovative documentary techniques that allow her to focus on closed communities.
About the film
Color, DCP

| | |
| --- | --- |
| Section: | Documentary Films - Competition |
| | |
| Director: | Iris Zaki |
| Dir. of Photography: | Iris Zaki, Ofir Peretz |
| Music: | Souad Zaki |
| Editor: | Tal Cicurel, Iris Zaki |
| Producer: | Iris Zaki |
| Contact: | Iris Zaki |
Guests
Iris Zaki
Film Director