Czech Republic
2014, 58 min

Section: Imagina
Year: 2015
This compilation film by Jindřich Chalupecký Award-winner Roman Štětina employes scenes from the cult series "Columbo" to create an entirely new story that highlights moments we would not have expected from the original. Columbo's lost case is, at the same time, the one which gives the celebrated detective the most gray hair and wrinkles.
Synopsis
For his first feature film, Roman Štětina turned to the iconic character of Lieut. Columbo and the eponymous series that starred Peter Falk intermittently from 1968 to 2003. In a humorous and sensitive collage capturing the fundamentals of the genre as well as the particularities of the series and its hero, Štětina constructs an entirely new story in which Columbo's detective work goes beyond the search for corpses to include a dangerous number of pointless exploits. As time passes, the detective finds himself in places he would never have imagined could exist. But he remains true to himself regardless. Upon accepting the film's premise, viewers will be able to enter a story that is just as engaging as any of the series' episodes. As is usual in the director's work, he doesn't limit Lost Case to just the movie itself. The project also features cooperation with graphic designer and film poster artist Zdeněk Ziegler, who employed an unused poster design from 1977 for the film.
Viktor Palák
About the director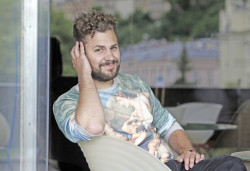 Roman Štětina (b. 1986, Kadaň, Czechoslovakia) graduated from Michal Pěchouček's studio at the Institute of Art and Design in Plzeň (2009) and is now a student at Prague's Academy of Fine Arts (under Tomáš Vaňek and Jiří Skála) and at Städelschule in Frankfurt (studios of Judith Hopf and Douglas Gordon). His work is often inspired by radio broadcasts, which he approaches with deference while also attempting to find new perspectives. KVIFF showed his short films Talking about Art (2012), Tongue Twister (2014), and Lecture (2014). In 2014 he was awarded the Czech Republic's prestigious Jindřich Chalupecký Award for young Czech artists.
About the film
Color, DCP

| | |
| --- | --- |
| Section: | Imagina |
| | |
| Director: | Roman Štětina |
| Screenplay: | Roman Štětina |
| Producer: | Roman Štětina |
| Cast: | Peter Falk |
| Contact: | Roman Štětina |
Guests
Roman Štětina
Film Director